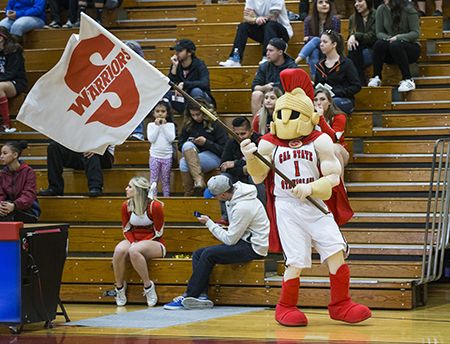 Despite his boisterous energy, Titus, Stan State's ultimate Warrior, isn't usually one for words. Between helping run the athletics department and cheering on the home team, he doesn't have a lot of time for interviews. We took advantage of some rare downtime over winter break and caught up with Titus to chat about athletics, music and how he stays in shape.
What is your pre-game ritual?
Everywhere I go I spread the word about game day. Right now it's basketball season so I start out with coffee at Starbucks on Geer where I hand out free tickets to fans and whoop up the crowd! I hang game day signs on campus, and I always stop to feed the ducks. By 3 p.m., I'm at the shootaround with my whole team, warming up, making sure everyone is pumped up and ready to go. Then, I meditate with game day music. With every sport my routine changes a little bit but no matter what, I hang close by Amanda Rosas—she's my homegirl—and I'm always rooting for every Warriors team, year-round!
So you like music. What's your favorite song?
"Warrior," by Nelly. Something about that song really resonates with me. #ImAWarrior
You've got some rockin' abs. How do you stay in shape?
I hit the gym … hard. I focus on the abs, but I don't forget the rest of the package either. Push-ups, pull-ups — you name it, I do it. I mean not to brag, but I can totally bench 300 pounds. After my workout, I slam a recovery shake. Eating healthy is just as important. My diet is pretty Spartan. A typical meal for me is made up of chicken, rice and vegetables.
Who's your biggest nemesis?
Monty Ray, the Otter from Cal State Monterey Bay, gives me a hard time. That guy really grinds my gears! He can be a bit of a social media bully — always putting me and the other mascots on blast. But then when it comes game time, he doesn't even show up! We play Monterey often in all sports and old Monty Ray rarely shows his face. They may say nothing's hotter than an otter, but I say nothing's hotter than beating an otter.
When you're not attending games, what do you like to do for fun?
Every Wednesday I hang out in the quad for Warrior Wednesday, and on off days, I visit the elementary schools nearby. I do this program called Warrior Watch that is all about anti-bullying. When I'm not there, you can find me in the athletics department, keeping the athletes in check.