History Lives on for Stan State, UCLA professors 
Stan State Assistant Ethnic Studies Professor Mary Roaf is an accomplished scholar with a Ph.D. in Applied Anthropology from Temple University, but she has spent a lifetime wrestling who she really is.
Descended from African Americans and Native Americans, she had family members who embraced their heritage and others who rejected it. Growing up, she heard bits and pieces of her family's story and tried to fit together the puzzle of her ancestry, but by the time she was teaching at Northern Arizona University near the Navajo Nation reservation, she gave up on reconciling her roots.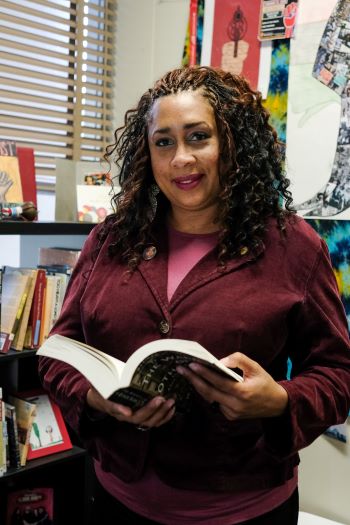 Then she came to Stan State in 2018, where fellow Ethnic Studies Assistant Professor Cueponcaxochitl Moreno Sandoval helped her embrace all that she is.
Roaf will share her personal journey and the broader story of the connection between Black and Indigenous Americans during a Zoom program entitled "Black Lives, Indigenous Lives and the Matter of Justice on Turtle Island" on Nov. 5. The term Turtle Island is used by some Native Americans for the United States in their story of creation.
Roaf will be joined by Kyle Mays, a UCLA assistant professor of African American studies, American Indian studies and history. He too has Black and Native American roots, and his recent book is called "Hip Hop Beats, Indigenous Rhymes: Modernity and Hip Hop in Indigenous North America."
"I've been looking at the way Black Americans, formerly-enslaved Black Americans, and U.S.-based native communities have engaged with one another," Roaf said. "I want to give justice to the spectrum."
At one end of that spectrum are Native American tribes that gave shelter and protection to runaway slaves, embraced them, married them and had families with them. Some would buy members out of slavery if they were recaptured.
Somewhere in the middle are the Five Civilized Tribes, the term used by the U.S. government for those who assimilated, who changed their lifestyles, ignored slavery and fought for the Confederacy during the Civil War.
At the other end is the Seminole Nation, which fought three wars with the U.S. government. The first of those battles beat back General Andrew Jackson who attempted to recapture slaves who'd become tribe members and their offspring.
"The Seminole represent the gold standard of indigenous solidarity," Roaf said. "We see that coming full circle with the Black Lives Matter movement. It's multi-ethnic, multi-generational, and there's BIPOC (Black, Indigenous, People of Color) solidarity."
That group addresses historic and on-going violence against Native Americans and Blacks, based on a white supremacist system, Roaf said.
"The U.S has a dubious distinction in that way," Roaf said. "It's the longest-running, most intensive white supremacist society in the world, where the cornerstone is anti-Blackness."
That's the world in which Roaf grew up, in Arkansas, about 40 miles from Little Rock. Her mother, descended from the Virginia Pamunkey Nation, the nation of Pocahantas, was fair. Children called Roaf "Love Child," a reference to the Supremes' pop song, thinking she was part white.
At age 9, while visiting her paternal grandparents, she looked through a National Geographic magazine and saw photos of Native Americans.
"I wondered why everyone in those pictures looked like my grandmother," Roaf said.
Her grandmother had eschewed her Chocktaw roots. Her grandmother's mother had been disowned by the tribe, one of the five Civilized Tribes, for having a child with a black man.
"There was a lot of trauma around that," Roaf said. "My grandmother was anti-everything except Black, because of this history."
It took years, and her mother —a ground-breaking attorney and Arkansas judge — finally working on her family ancestry, to unlock many of the family secrets. Roaf is now open to learning all of them.
She shares her story with students in her ethnic studies classes and will share it in detail during the program.
"It's been a journey," Roaf said. "I want to be open and allow myself to be vulnerable to my students. Especially in this moment. What does white supremacy do? It attacks our lives and our senses of selves on such intimate levels. I've grappled with that. I understand now there is no way to not be impacted by that because of conditioning. But, we also have a choice. We also have agency.
"The first step to reclaiming our power is recognizing and acknowledging the systems in place and acknowledging how we've internalized those and then choosing to change that, choosing to undo that, choosing to heal."