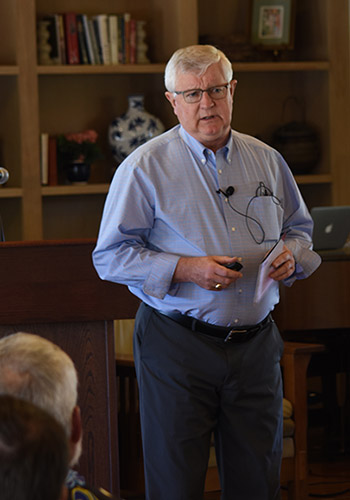 Academia is taking lessons from the real world, beefing up theoretical knowledge by putting it to use in practical projects. The mix gives students experience as well as expertise, imprinting ethereal concepts in concrete memories. As varied as the classes they enhance, such assignments are collectively known as high-impact practices (HIPs) and were the focus of a conference held at Stan State May 11, sponsored by Stan State's HIPs Workgroup.
"Not only are these practices powerful for virtually every student, the students who benefit the most are those who are least prepared for college: low-income and first-generation students. Activities of this kind put students in concrete situations, where they see relevance and meaning in what they are doing in college," said George Kuh, founding director of the National Institute for Learning Outcomes Assessment. Kuh was keynote speaker for the HIPs Summit.
High-impact activities such as learning communities, writing-intensive courses, internships or conducting research with faculty members, harness the benefits of peer collaboration and more substantive interactions with faculty.
Stan State professors outlined more than a dozen HIPs being piloted on campus. In one, upper-division nursing students select and research a gap they see in nursing practices using peer-reviewed art projects and papers. A modern languages course has native Spanish-speakers, already bilingual, try learning a third language and compare techniques for teaching foreign languages to adults. 
A public speaking course partners with campus radio station KCSS to give students a chance to analyze their speaking style on voice and video recordings and learn the mechanics of creating a podcast.
A kinesiology capstone class partners with the City of Turlock Parks and Recreation Department to provide free community exercise sessions at Donnelly Park. Students promote and run the program using their kinesiology training to design the exercises for 18- to 75-year-olds in all levels of fitness. A second kinesiology course sends students out to sports practices and exercise classes to compile data on coaching methods and their effectiveness. "We want them to think from a learner's perspective," said instructor Arya Alami.
In Principles of Macroeconomics, students partner with a nonprofit to work with the homeless and attend a fundraiser attended by many at the lower end of the economic spectrum, as part of studying economic inequality. "This adds depth to their discussions and tests some of their preconceived notions," said Professor Kelvin Jasek-Rysdahl. 
Coming up in 2018-19 is a proposed Sexuality Fair on campus, featuring student-created handouts and activities around the curriculum of a Sociology of Sexual Behavior class. The exercise will challenge students to communicate information and data about sexuality to a public audience. 
"What I found fascinating and illuminating, inspiring really, is the way all of you took the features of high-impact practices and incorporated them into a traditional classroom setting," Kuh said at the Summit's close. "That is where the value is. Ultimately, what we want is to increase the power and engagement of pedagogies inside and outside the classroom."
President Ellen Junn and Provost Kimberly Greer praised the innovation and dedication of faculty implementing such practices. The University's Strategic Plan includes an objective that every undergraduate have at least three such experiences during their time at Stan State. The University's High-Impact Practices Workgroup, co-chaired by Associate Vice President Shawna Young and Associate Professor Gerard Wellman, is focused on implementation and assessment strategies. 
"We know real-world applications help students connect with their academic community and understand the relevance of what they are learning," Greer said. "This is so important for our students, 75 percent of whom are the first generation in their family to go to college. High-impact practices showcase and enrich the life experiences of students and better prepare them for professional success."