'I'm Proud of What We've Been Able to Accomplish Together'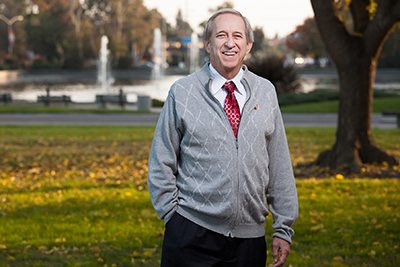 ​President Joseph F. Sheley, who has led California State University, Stanislaus since June 2012, announced today that he will retire on July 1, 2016, but he is quick to point out that much remains to be done in the next several months.
"I'm proud of what we've been able to accomplish together, and I'm especially proud of our students' success," he said. "However, it's important to stay focused, because this region desperately needs many more successful graduates if it's going to advance economically."
He said he plans to continue advocating for investment in higher education and making the case that the state's long-term well-being lies in a better-educated workforce in the Central Valley.
Last spring, Sheley played a role launching the Stanislaus Education Partnership, which brought together the Stanislaus County Office of Education, Modesto Junior College and Stanislaus State in an ongoing campaign to smooth the road from grade school to college for students and increase the percentage of degree-holders in the region. 
"We have so many young people who want to attend college, but they're not sure how to navigate the process. Despite their best intentions, many do not achieve their dream, or know they can dream," Sheley said. "The partnership's mission is to help ensure that students and their families know what it takes in junior high and high school to prepare for the next step, and once they get to college — here, at MJC or elsewhere — they have the knowledge, confidence and staying power to succeed in college."
This message — more graduates means a brighter economic future for the region as well as the individual — is one that Sheley has carried to meetings with legislators in Sacramento, to business leaders and alumni throughout the region, to fellow educators and future graduates.
For Sheley, the belief in the life-changing power of a CSU education is personal.
As "a kid from the flat-tops off Cottage Way" in Sacramento, he cultivated his potential at Sac State as a first-generation student.
"If there were no Sac State, I don't know where I'd be today," he said at a 2012 event at his alma mater, which honored him with a Lifetime Achievement Award. "That was a pretty heavy-duty defining period in my life."
Sheley said another focus in the coming months will be continued collaboration with campus constituencies on a host of issues: budget planning, health and safety, Title IX and fundraising.
"Collaboration does not always mean unanimity, but one of the things I've valued throughout my career in higher education is the collegiality among those who are passionate about the university."
Though he expects to have a largely full calendar of meetings, gatherings, backgrounding and study, he wants to take a little time to enjoy life on campus with his wife and faculty member Bernadette Halbrook.
"Warrior Pride is not just a phrase," he said. "You feel it at games, cultural and academic events, and in everyday conversation in the Quad or Main Dining. That feeling is important to us, and we'll miss it. We want to experience it until the day we leave."