Stanislaus State's annual campaign seeks volunteers to support the effort that has raised more than $1.5 million for scholarships to outstanding students since 2014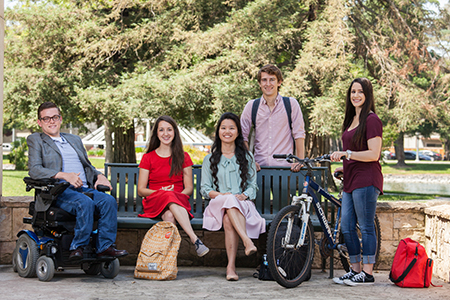 Nearly 170 students received One Purpose scholarships in 2015. Among them are (left to right) Russell Fowler, business administration major; Emma Berdino, communication studies major; Margaret Xiong, liberal studies major; Daniel Costa, mathematics major; and Aliah Shabbar, nursing major.
Preparations are underway for the third year of Stanislaus State's annual fundraising campaign, One Purpose. Over the past two years, the campaign has raised more than $1.5 million for student scholarships.
The campaign is anchored by a six-week fund drive in the fall, when teams of volunteers ask the community to support student success at Stanislaus State by pledging annually to the One Purpose scholarship fund. Awards from the scholarship fund are made to some of the highest-achieving students at Stanislaus State, recognizing their hard work, as an investment in the future of the Central Valley.
The campaign effort is accepting volunteer sign-ups through Friday, June 17. Each volunteer who signs up represents additional support for stellar students — and every dollar raised by volunteers goes toward scholarships.
This year's One Purpose fund drive will begin Aug. 25.
In 2015, nearly 170 students received One Purpose scholarships and that number is soon to grow. As a result of last fall's campaign effort, more than $535,000 in scholarships will be awarded to Stan State students for the upcoming school year.
"Our volunteers should be incredibly proud of their efforts and we hope that they will feel a resolve to stay involved with the University through their participation in One Purpose," said Mary Hartsfield, director for annual giving at Stanislaus State, who is guiding the campaign effort under the leadership of Vice President for University Advancement Shirley Pok. "Giving of their time to volunteer for this cause means making a difference for deserving Stan State students with proven academic excellence."
One Purpose scholarships have made a positive impact on students who are among the best in their classes. The recipients of One Purpose scholarships not only demonstrate high academic marks, but they also make a difference by being engaged beyond the classroom. The deans and directors who make the selection for the scholarship awards identify students with the greatest potential to have an impact in their fields of study.
"When you make a donation to One Purpose it is an investment in a student like me," said Russell Fowler, a Stan State business administration student and One Purpose scholarship recipient. "The confidence and the pride it provides is invaluable, and it is a way for the community to be involved in our success."
Hartsfield also described the campaign as a dynamic effort that has allowed the campus and the community to work together toward a common goal. She said this effort lends a unifying vitality between the University and the region it serves.
"Stanislaus State is no longer a hidden gem in the Central Valley," Pok said. "People are speaking more proudly and positively about the University and about our focus and impact on the region. Our One Purpose volunteers are among those expressing their pride."
Volunteers and donors also have the unique opportunity to meet the recipients of One Purpose scholarships throughout the campaign. The six-week fund drive includes a number of networking events, during which students meet and talk with the individuals who have made their scholarships possible. Connecting outstanding students with well-respected professionals and campus leaders is a distinctive feature of the campaign.
"One Purpose creates a sense of unity and strengthens relationships between the campus and the community," said Luke Gonzales, a theatre major who received a One Purpose scholarship last year and has attended numerous One Purpose activities. "Students feel a sense of belonging and support, which strengthens the community as a whole."
Share your Stan State pride as a One Purpose volunteer: To find out how you can join a One Purpose team and help support student success, contact Mary Hartsfield, director for annual giving, at (209) 667-3131 or one.purpose@csustan.edu