ICU Nurse Splits Time Caring for Patients, Earning Advanced Degree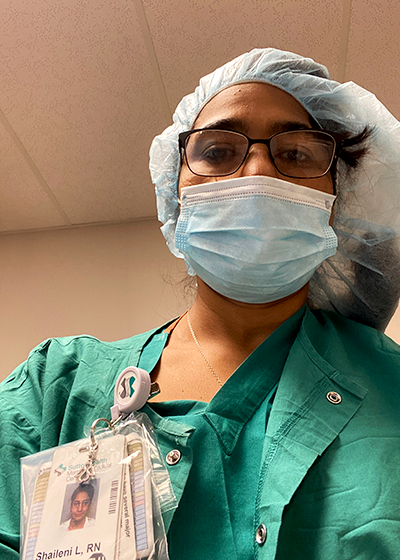 Few are living through the COVID pandemic to quite the same degree as Stanislaus State Master of Science in Nursing candidate Shaileni Lal.
The registered nurse spends 12-hour shifts caring for COVID patients in the intensive care unit at Modesto's Memorial Medical Center. When she leaves, she hands her duties off to her husband, Vishnu, who works the opposite 12-hour shift in the same unit of the same hospital.
He tested positive for the virus three months ago. Shaileni Lal, who stayed away from Memorial for 14 days while her husband quarantined at home away from her and their three teenaged children, has been tested three times and the results always have been negative.
If COVID-19 has thankfully not infected her, its impact has seeped into her core.
One patient, a 28-year-old pregnant woman, arrived after attending a gathering.
"This was in the beginning when we were first seeing COVID patients. She came in with respiratory problems. They did an emergency C-section for the baby, who survived. She got worse and they put her on life support, but she died.
"That story touches me. The other story that touches me is a 24-year-old who had some disabilities and was in a nursing home that had an outbreak of COVID. We had several patients from that nursing home. He was the one I still remember."
The young man had asked Lal for a drink of water, and she put on all the necessary protective gear to enter his room and give him a sip. He seemed fine, but 10 minutes later, he was in respiratory distress. By the time they intubated him, he was gone.
"I can't forget those two cases. Every time something comes up, I go back to them. I don't let it go. I have it inside of me, stored there. I don't think it will ever go away. All the traumas, all the patients who have passed away over the years, I let it go. This COVID is staying with me."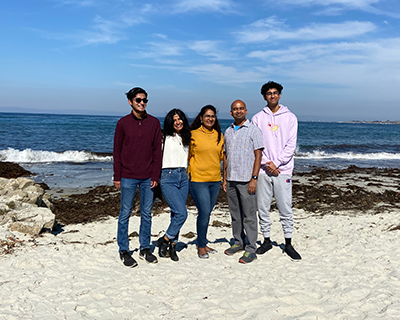 In happier times, Stan State student and practicing ICU nurse Shaileni Lal visits the coast with her family, from left, youngest son Vikash, daughter Shewhani, husband Vishnu and eldest son Vishal.
When she gets home, where her two sons are virtually attending Enochs High School and her daughter is taking her sophomore classes from UC Davis, Lal can't remove herself from the virus that attacks the lungs.
A year ago, when she began research for her master's thesis, she chose the effect of ventilator-associated pneumonia as her topic. Her thesis on why it's important to teach ICU nurses about ventilator-associated pneumonia will conclude the three-year program for Lal, who earned her RN at Merced College and her BSN at Stan State some 20 years ago.
Returning to school was a challenge, but her sister, Nelu, also an RN in Memorial's ICU, joined her in pursuing a master's degree.
Lal was driven in part by genetics, specifically a condition that causes the meniscus in her knee to tear, which has required three surgeries. It has Lal wondering how she can sustain her career.
"The intensive care unit requires a lot of running around, lifting and pulling and I was looking at myself, wondering if in 10 years, when I'm 50, if I'm going to be able to do this," Lal said. "I thought I should go back to school, have my master's and if physically I can't do this job in ICU, I could teach."
Nelu shifted her graduate studies to enroll in Stan State's family nurse practitioner master's program, but Lal is a semester away from completing the three-year MSN program.
She wanted to be a nurse for as long as she can remember.
"When I was 5, we migrated here from Fiji," Lal said. "My dad told us his dreams were for his children to be somebody. He told us to be something that was really rewarding that you like. So, my dream since I was in grade school was to become a nurse and help people. And here I am."
No one envisioned what "here" would look like in 2020.
What Lal, her husband and countless others in ICUs across the globe are confronting has exacted a physical and emotional toll.
"It hits you really hard," Lal said. "It's really daunting."
Lal steels herself with faith.
"Everybody may have a different way of handling things. Mine is prayer," Lal said. "I'm a Hindu. I pray every day, 'God, give me strength to get through my 12-hour shift.' I do the best I can."
Her strength is fortified by vaccine news, which may halt the constant flow of patients into two ICUs dedicated to COVID patients at Memorial.
Until that happens, Lal's plea is for everyone to follow recommended protocols and not gather in big groups or travel, a situation she watched with horror on the news during Thanksgiving.
"I get emotionally very upset when people ask if COVID is real," Lal said. "I tell them, 'You need to come with me if you don't believe it. Come to Memorial's ICU and see for yourself."