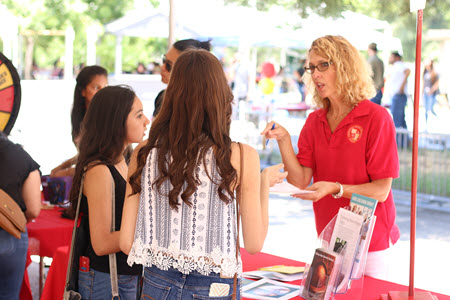 Incoming freshmen and transfer students spent a day getting to know Stanislaus State this summer and gaining the tools to help them succeed.
New Student Orientations brought a total of 2,530 newcomers to the Turlock campus or the University's Stockton Center, who heard from speakers, met with advisors and got to mingle with like minds from student organizations and activities.
"We try to cover student life, both inside and outside of classes," said organizer Josh Edrington, NSO coordinator and student organization advisor.
At the June 27 orientation, freshmen cited strong Stan State programs as what drew them to the University, and said New Student Orientation gave them a good start.
"It helped me with my class schedule, because I would have had no idea of how to do that on my own," said first-generation college student Megan Agueda of Hickman.
Beside her, Vanessa Mendonca of Merced said she came to the campus because of the reputation of its liberal studies major. "They're known for it," she said. "I got to know my advisor and her office hours are always open. I can come in any time."
Aspiring nurse Sergia Cabral De Matos of Manteca said she chose the Turlock campus because it was close to home. The orientation, she said, "gave me more of an understanding of what were the required classes."
Going over the basics and laying clear expectations help newcomers get a strong start.  In different sessions, speakers discussed guidelines for getting into classes and through majors, and what qualifies as general education. How something that is just interesting or good exercise can fit into the plan was covered, as well as what constitutes a full course load and the pitfalls of overbooking that first semester.
Others sessions explained campus policies toward alcohol use and offered consumer education on student loans. How to recognize, avoid and report sexual harassment was its own discussion.
In one of the sessions on June 30, Communication Studies Professor Keith Nainby and Stan State upperclassmen took questions on succeeding in college, advised students to challenge themselves and encouraged them try classes that piqued their interest.
"One of the least helpful things people tell you is to imagine what job you'll be doing when you're 35," Nainby told incoming freshmen. "What things are you curious about? Tackle subjects that draw your interest."
Learning to manage time might be the toughest lesson of all, Stan State senior Maria Marquez said. "I feel like that's the biggest change you have to make in yourself."
Strategies she and junior Ana Bettencourt shared: Set up a calendar and put every assignment on it, setting early due dates to assure time to check and edit. Save the syllabus and consult it and your calendar every weekend to plan study time for the week ahead.
A first-generation college-goer, Marquez advised new students to seek out supportive friends and faculty. Arrive for final exams on time, before the doors lock. And ask questions, lots of questions.
"You're more than just a number. You're more than just another student here. You're a face. You're a name," Bettencourt said.
Jonathan Moss is looking at a computer science major. He grew up in Turlock, but got to know the campus through orientation. Stan State landscaping, with all its lakes and trees, impressed Gabriel Media of Modesto, but he said the big takeaways from the day were the nuts and bolts of how to enroll in his courses.
Jaelyn Stock of Manteca, an undeclared freshman leaning toward a business degree, also needed help finding her University path. "I learned how to get my classes, and how to read a class schedule," she said.
Starting college seemed overwhelming, but she knew help would be there, Stock said. "My sisters went here and they had nothing but good things to say."