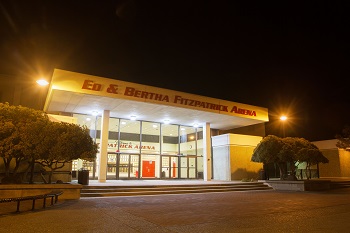 Imagine that you are watching a volleyball match during the 2017 season inside the Ed and Bertha Fitzpatrick Arena: You are leaning back on a nice seat in the stands, the air is comfortable, and the Warriors are winning as they play on a brand new floor.
All of that won't be a daydream anymore: Stanislaus State Director of Athletics Michael Matoso has announced plans for more improvements inside the arena.
"We are extremely excited about this next phase of arena upgrades," Matoso said. "The improvements will not only provide a better playing surface for our student-athletes, they will also provide an enhanced game environment and positive experiences for our fans and supporters."
The latest upgrades will include the installment of a new gym floor — a complete replacement, not just resurfacing. Warrior Athletics logos, plus a refreshed floor design and color scheme, will also add to the new look.
And those old, brown wooden bleachers? Gone. The project will also include brand new, stadium-style seating with 650 preferred chair-back seats. The new configuration will have an estimated capacity for 2,000 spectators.
The floor and seating renovations are expected to take place during the summer of 2017. An air conditioning system is being installed inside Fitzpatrick Arena this summer.
Stanislaus State students will also benefit from this upgrade because the arena is used for classes and assemblies, as well as other special events and functions.
This phase of the arena improvement, with a price tag of approximately $1 million, is made possible in part by additional donations from Ed and Bertha Fitzpatrick — longtime supporters of the University and Warrior Athletics.
"My family and I are grateful we can continue to support Warrior Athletics at Stan State," Fitzpatrick said. "We consider the floor and seating replacement project in the arena a win for the students and the community, and we wanted to be a part of it."
Matoso and the athletics staff will raise additional funds to supplement the project's cost by providing naming and sponsorship opportunities.
"This project will include additional opportunities as we will continue to fundraise for the seating portion of the project," Matoso said. "We will also seek out donor funding to complete the arena with a renovation of the lobby and new video scoreboards. When it is all completed, Stan State will have the best all-around facilities in the CCAA."
Over the years, additions to the arena have included a state-of-the-art sound system, expanded scoreboards, LED display tables and new courtside seats. Other recent facility renovations included the replacement of lights and upgrades to the basketball and softball team rooms. Construction of a new volleyball team room was completed in February.
The gymnasium, which took on the name Warrior Arena in 1999, was originally built in 1978 and renamed Ed and Bertha Fitzpatrick Arena in 2010.