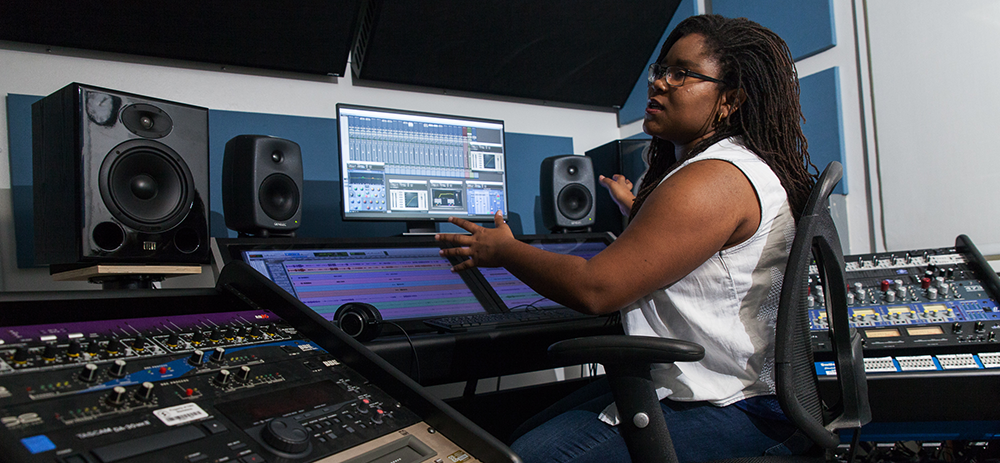 With the Stan State Wind Ensemble's fall performance, "Circuits," behind her, junior Olivia Doby began focusing on her clarinet performance of Mozart's Clarinet Concerto in A to deliver to the music department's mandatory directed listening course. In it, students hear and critique other students' performances.
"It's exciting," said Doby, who is originally from El Segundo. "I've never played Mozart before."
Being introduced to new music and fresh performances is nothing new for Doby who, despite her proficiency on the instrument, didn't come to Stan State to play clarinet.
She came to Stan State because of the University's music technology program, which she hopes will lead to a career in music production. Stan State is the only CSU that offers a music degree concentration in music technology. And since music majors are required to practice an applied instrument or voice, she fell back on the clarinet, an instrument Doby first picked up in fourth grade.
Her interest in music technology began before she started high school, when a broken finger prevented her from participating in cheerleading stunts.
"I had to sit on the sideline while they were working on the routine," Doby said. "The music for the routine was a mashup of 90s pop songs I loved growing up. It was really interesting because I'd heard these songs a million times. When I heard these songs cut and spliced together and I thought, 'How did they do that?'"
She found a DJ camp in Ojai and talked her parents into sending her the summer before her freshman year at El Segundo High School.
She continued with the clarinet and played synthesizer in the school band.
"I knew I wasn't the best player and I was OK with that," Doby said. "But I enjoyed playing, and the music we played was fun. It was a great atmosphere, and you're in class with all your friends."
She also loves musical theatre — the first production she saw as a fifth grader was "The Lion King" — but she prefers to be off stage. Doby was an intern with the El Segundo Performing Arts Center when she was in high school, recalling that the experience exposed her to technical backstage work, including the mixing of live sound.
It served to crystalize her vision for the future. Doby loves creating electronic sounds with her computer.
She also took a piano class with Professor Sarah Chan, which she loved, because she wanted to learn to play piano. In creating music with her software, it begins with piano or beats, Doby said, so piano playing was essential.
Her music tech dreams have not wavered. She already has her company slogan ready: "Your Music. Your Message. Our Help."