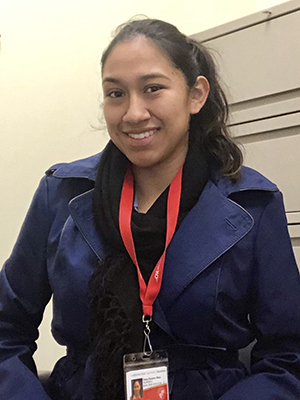 Daisy Ramirez Meza earned a health science degree at Stan State with a concentration in leadership and administration.
She's putting those skills to use, not in a medical facility but on the Stan State campus as the Health Careers Navigator in the School of Nursing, where she's ushering through the latest cohort of RNs working to complete their bachelor's degrees.
Hired in late 2018, partially with funding from the Stanislaus Community Foundation, Ramirez Meza is helping to steer students already enrolled in the RN program at Modesto Junior College into Stan State's sequential enrollment pathway program, which allows them to begin taking courses, free of charge, over two summers, toward earning their Bachelor of Science in Nursing.
They'll ultimately join other RNs from community college seeking their bachelor's degrees through Stan State's online or face-to-face programs, although they'll already have some classes completed.
"For community college (graduates) there was no incentive to come back and upskill their degrees to a BSN because locally, in the Central Valley, there was no pay differential for a BSN," said Debbie Tavernier, director of the School of Nursing. "Increasingly, more and more studies have come out that show the improvement of outcomes of patients who were cared for by nurses with a bachelor's degree."
The region is catching up to the national and state trend of requiring RNs to have bachelor's degrees, Tavernier said.
Tavernier has long visited nursing students at MJC just before their graduation to tell them, "Congratulations, now you're ready to take the next step in educational journey," and encourage them to pursue a bachelor's degree.
Ramirez Meza's new role is dedicated to that cause.
She reaches out directly to current community college RN students and encourages them to continue toward their bachelor's degree at Stan State. Once here, she keeps track of their progress, reminds them of courses they need to take and makes sure they fill out appropriate paperwork when it's time to graduate.
"The other role I have as the Health Careers Navigator is bring awareness to the community about careers in health care," Ramirez Meza said. "I've visited a majority of the high schools in Stanislaus County. I speak to students already interested in careers in health care and I talk about our nursing programs and how they can advance in a nursing career. Our health science program is also part of the School of Nursing."
Ramirez Meza was once one of those interested high school students she's now addressing.
She attended Turlock High and credits the AVID program there for helping her, a first-generation college student, apply for college and for the financial aid that made it possible. She worked as a student assistant for Tavernier while getting her degree in health sciences and when the Health Careers Navigator position opened, Tavernier encouraged her to apply.
"I wanted to help people and I had a desire to help underserved populations," Ramirez Meza said. "This job was perfect. I feel like I'm living my dream. I'm going out and talking to students who don't have parents who have gone to college and are scared. They know they want something, but they don't know how to achieve it. I feel like they can relate to me and I can better help them."
At a college fair at Patterson High, a young woman approached Ramirez Meza's table and inquired about becoming a nurse. Her mother stood in the background seeming nervous and shy.
Ramirez Meza understood the dynamic at play, and began speaking Spanish so both the mother and daughter had a proper introduction to Stan State's program.
"I helped her see there is a purpose for her daughter to go to school," Ramirez Meza said. "I've seen in the Hispanic heritage that some may not understand the value of college. You need a degree to get an entry-level position in these fields. I feel I did help this young lady by helping her mom understand the value of going to college."