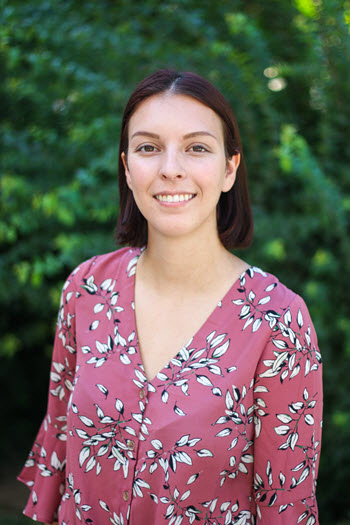 Emma Van Hoogmoed graduated from high school in Madera and enrolled as a theatre major at Fresno City College, anxious to continue the backstage production work of designing sound, lighting and sets that she had enjoyed in high school. 
Within a semester her path changed. 
"I went to community college as a theatre major and I realized I wanted to do something more science based," Van Hoogmoed said. "Then, that same year, my dad was diagnosed with terminal cancer. It was eye-opening for me, but there's thousands of dads everywhere getting diagnosed with cancer. I wanted to do more than just support my dad. I wanted to support everyone else." 
The 20-year-old junior, who transferred to Stan State in spring 2019, became a computer science major and hopes to use the technology for medical research. 
"I heard a lot about computer science and research technology, particularly how artificial intelligence was diagnosing tumors earlier than expected, I was like, 'I want to do that, too,'" she said.
As a recently accepted McNair Scholar, which helps first-generation and underserved students progress to graduate school, Van Hoogmoed's dream may be realized. 
She got a taste for research when she presented a paper on digital pathology at the McNair Capstone Conference last spring for the honors program. 
"It was super exciting," Van Hoogmoed said. "It was nice to learn, but then also to share with people who might not initially be interested, or not know they're interested in the field. Digital pathology can be perplexing at first, but then when someone can break it down, explain it to you, it's a lot more welcoming. To offer that to other people, it's just a great experience. 
"The biggest thing I learned is that the reason digital pathology is not being used is because the programs are so complex that a doctor has to know computer science. If I could get into that field and make programs that can be used by doctors, that's exciting." 
Stan State faculty member Xuejun Liang supervised Van Hoogmoed's capstone project, and the two are determining the scope of her McNair Scholars research project. 
Beyond requiring a research project, the McNair Scholars Program sends students to conferences, to a graduate school boot camp to prepare for the admissions process and to visit campuses with graduate programs in their field. 
Van Hoogmoed selected Stan State for her undergraduate work because, "Madera's a small town and I liked the small-town environment and the community here, and Stanislaus is just such a beautiful campus that it's hard to resist." She has an eye on UC Davis for her doctoral work. 
"I want to go toward the field of oncology and work with doctors to come up with better treatments for patients," she said. "All of that is rooted in research, lots and lots of studies, and formulating ideas and trying to come up with better ways of doing things." 
Learning how to effectively conduct those studies is part of what she'll learn as a McNair Scholar. Admittedly, Van Hoogmoed didn't know who Ronald McNair was when she applied for the program last spring. 
She thought he was an educator until she read his biography on the website and learned he was a physicist of great renown who died with six other crew members when the Space Shuttle Challenger exploded 73 seconds after takeoff on Jan. 28, 1986. 
"Just the fact a program like this was made in his honor makes me speechless," Van Hoogmoed said. 
And now, she's a part of it.