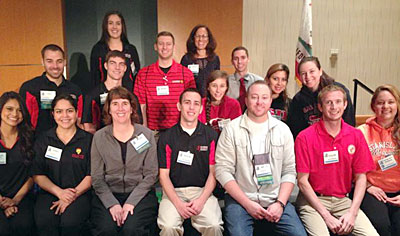 There was a strong CSU Stanislaus presence at the statewide conference of the California Association for Health, Physical Education, Recreation and Dance (CAHPERD), held Feb. 27 to March 2 in Garden Grove.
Fourteen kinesiology majors from CSU Stanislaus attended the conference, hearing informational sessions, making presentations, winning competitions and even receiving scholarships. The students were joined by professors Janice Herring, Susan Eastham and Brent Powell, while department Chair Erin Hall represented the university at the biannual meeting of CSU kinesiology chairs at nearby CSU Fullerton.
During the conference, student Eric Conrad received CAHPERD's John F. Kennedy scholarship, a $500 award given to the highest-ranking undergraduate applicant in scholastic proficiency, leadership ability and personal qualities. Conrad was the fourth CSU Stanislaus student in three years to receive a CAHPERD scholarship, and he was also elected to serve as the Future Professionals Chair on the CAHPERD Board of Directors for 2014-15.
The CSU Stanislaus students attended sessions on Common Core, Cultural Fluency and Interdisciplinary Education, Understanding the Gender Spectrum, and several other health and physical education topics. They were also involved in a number of presentations of their own.
Herring and Eastham were assisted by 12 students for a presentation on "Implementing the California Physical Fitness Test," providing feedback to current physical educators about proper test administration. Herring and student Matthew Blakely presented "Physical Education Framework: Ideas for Expanding Curriculum Content."
Conrad and fellow student Kelly Corrine Hall presented "Student Implementation of Wellness Promotion on College Campuses," and Conrad also presented with Powell on "Assessing Kinesiology and Nursing Students' General Nutrition Knowledge."
The conference also included a competition with four-person teams measuring their skills in four physical activities. The CSU Stanislaus team of David Schipper, Robert Moser, Taylor Whiteside and John Heller placed first among 15 teams in the competition and will receive a trophy later this semester.
The 14 kinesiology majors who participated in the CAHPERD conference were: Madeline Geibig, Sonia Serrano, David Schipper, Taylor Whiteside, Lesley Willems, Eric Conrad, John Heller, Bobby Moser, Courtney Wallace, Matthew Blakely, Gabriela Moreno, Lauren Smith, Kelly Corrine "K.C." Hall and Corey Rogers.