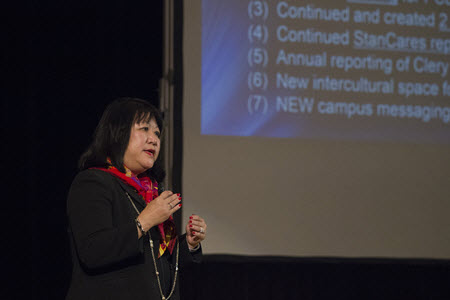 In a little more than 13 months as Stanislaus State President, Ellen Junn has established the groundwork for a commitment to diversity and inclusion as inextricable elements of the campus fabric and ethos.
While much has been accomplished in such a short time, recent events on college campuses and around the country illustrate that much more needs to be done to ensure everyone has the opportunity to feel safe and be heard at institutions of higher learning.
The theme of diversity and inclusion already was planned to be a major topic in President Junn's second Fall Welcome Address on Aug. 21, and the necessity to address those issues was underscored when a group of students exercised their right to free speech and temporarily interrupted the address. The students wanted to know why a Stan State student linked to alt-right protests at UC Berkeley and the University of Virginia is still allowed to be enrolled.
"We're dealing with the complexities of law and justice as set out by our American democracy," Junn said. She explained that she is working closely with legal counsel and two campus rapid response teams to monitor the situation and said that she will provide information to the public as allowed by privacy laws.
"What happened at Charlottesville is a horrifying tragedy and we do not want it to happen on our campus or other campuses. We are on the same page. We're even using some of the same anti-hate phrases, like 'No hate at Stan State.' All of you are invited to be a part of our anti-hate speech task forces. There's a role for all of you to help us ensure this is a hate-free campus, on which all viewpoints are treated with dignity and respect."
Since Junn's arrival, she has established the President's Commission on Diversity and Inclusion (PCDI). The commission, announced last fall, has been charged with developing a comprehensive plan for achieving measurable results in making sure all students feel welcome and heard on campus.
In her address, she pointed to two campus events that illustrate how Stan State is reaching out to the community in these efforts. The first was the April 13 Day of Remembrance to mark the 75th anniversary of the shameful internment of more than 120,000 Americans of Japanese ancestry living on the West Coast. The second was the April 27 dedication of the Peace Pole, which includes the words "May Peace Prevail on Earth" in 16 of the languages spoken on the Stan State campus.
For faculty and staff among the more than 200 attendees at Snider Recital Hall, Junn provided a budget update that detailed plans for salary reviews. The budget presentation also explained how the money allocated for the CSU system in the state budget wasn't enough to avoid the system-wide tuition hike, but did allow Stan State to increase enrollment and hire new faculty.
As always, Junn shared campus highlights, including a faculty that is 62 percent tenure-track — one of the highest percentages in the CSU — and pointed out some of the recent national accolades that Stan State has garnered, including the MONEY magazine report ranking the University the nation's No. 1 public school for "helping students overcome their academic and economic backgrounds."
Junn also praised University Advancement for more than doubling — to $3.9 million— the amount of donations coming to Stan State in the past year.
She closed by mentioning two initiatives that continue the theme of helping the region's students, particularly those from underrepresented communities: her First-Generation Central Valley Presidential Scholars awards and the ongoing Campus Cares effort to aid students who are facing housing or food insecurity.