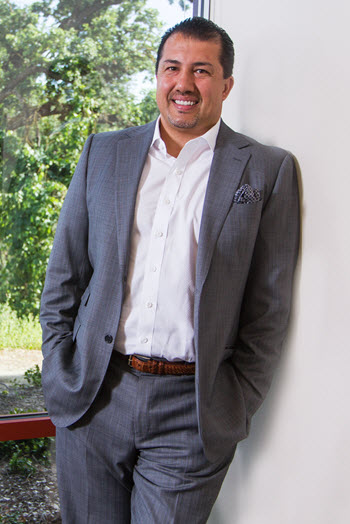 On Thursday, Sept. 29, the Foundation Board at Stanislaus State elected John Jacinto, also a Stan State alumnus, to succeed George Petrulakis as president of the University's philanthropic board.
As a young boy growing up among farm-workers in Delano, the notion of attending college and one day serving as the president of a university foundation board not only was far-fetched, it was literally unfathomable.
"All my family worked in the fields," Jacinto said. "College wasn't an idea. We didn't think about college, we thought about putting food on the table."
Yet because of the California State University system's mission to educate and advance all who are willing to accept the challenge, a college education was made available to Jacinto. A graduate of Modesto's Grace Davis High School, Jacinto attended Modesto Junior College before earning his bachelor's degree in finance from Stanislaus State.
He went on to earn his MBA from the University of Phoenix, and in 2003 co-founded Vistech Manufacturing — one of the nation's leading producers of automotive acoustical trim with more than 400 employees and annual sales exceeding $60 million.
As soon as Jacinto was in a position to begin giving back to the community and his University, he joined the Stanislaus State Alumni Advisory Council in 2008, serving as its chair from 2008-2015, and then became a member of the Foundation Board in 2015.
"I'm so honored and delighted that John has accepted the position of president for our philanthropic Foundation Board," said Stanislaus State President Ellen Junn. "John's experience and connections in the region as an alumnus, Central Valley native, first-generation college student, entrepreneur and business owner have made him an ideal leader for the Foundation Board. I know that he embraces new challenges and we welcome his perspective."
Jacinto said he is looking forward to working with the members of the Foundation Board, with President Junn and with Vice President for University Advancement and Executive Director of the Board Michele Lahti. Together, they will take the University to the next level through philanthropy, advocacy, and partnerships.
"George Petrulakis and (previous past president) Matt Swanson both were phenomenal leaders in that position," Jacinto said. "I have big shoes to fill, but since both George and Matt remain on the board, we have tremendous continuity to go with the new direction we'll be getting from President Junn."
At 45, married and the father of three children, Jacinto's long and often dusty road to where he is now gives him a unique perspective. He can empathize with the young people for whom college seems an impossibility, but he also is walking proof of what is possible.
"When you look at Stanislaus State, first-generation college students are the makeup of the student body," Jacinto said, referring to the statistic that nearly 80 percent of Stan State students are the first in their families to attend college. "That's the dream and that's why it's so important. A college education can change lives — not only your own but the people around you.
"Attending this university has made a huge impact on decisions I've made in my life. When I consider the charities I give to, my family and the people I am able to employ, all of them have benefitted from my decision to go to Stanislaus State. This is a university that has shown a great willingness to propel first-generation students."