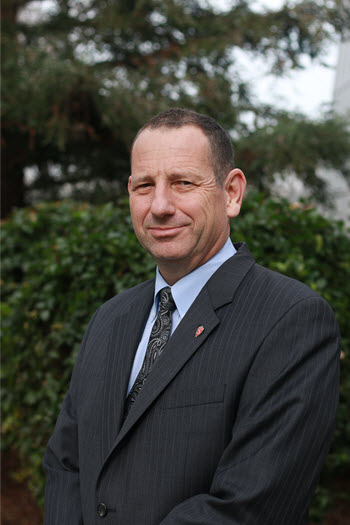 Darrell Haydon has been selected as Stanislaus State's Vice President for Business and Finance / Chief Financial Officer, having served in that role on an interim basis since January.
Haydon previously spent the nine years at CSU East Bay, starting as University Controller and being promoted to Associate Vice President of Financial Services in 2013. He also has been involved in a number of systemwide finance and accounting efforts, including serving as the Vice Chair for the CSU Financial Officers Association and serving on the planning committee for the annual CSU business conference that drew more than 450 attendees this year. Haydon has also been a lecturer at CSU East Bay, teaching Governmental Accounting, Accounting Information Systems and Managerial Accounting.
"I am delighted to have the opportunity to serve the Stan State community and to support President Junn," Haydon said. "As a strong advocate for transparency and collaboration, I will continue to enthusiastically look for opportunities to discuss the financial and business operations of the campus with faculty, staff and students. I am looking forward to working with and supporting all of the different constituencies that serve this wonderful University."
A former Marine, Haydon's professional career began at Pacific Bell where he served in a variety of IT, accounting and finance roles. He then spent four years at Educational Testing Service as the Director for Financial Accounting.
Haydon earned his B.S. in Business Administration at CSU East Bay and his MBA in Finance from St. Mary's College and holds a number of professional certifications including a CPA, a CGMA and a CIA. He is pursuing a Doctorate of Education in Educational Leadership for Social Justice at CSU East Bay and is looking forward to completing his dissertation in spring 2018.