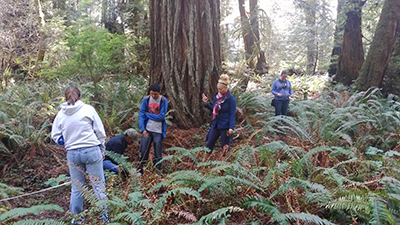 Five CSU Stanislaus students took home honors from the 69th annual conference of the California Geographical Society (CGS), held May 1-3 at Humboldt State University, but they were far from the only beneficiaries.
Within three days of the students' return to campus, Jennifer Helzer, director of the geography program, received a phone call from a student at Sacramento State. According to Helzer, the student's advisor attended the conference, and after hearing the presentations saw CSU Stanislaus as a good graduate school fit for the student.
"We've been building for several years toward having this kind of success at the conference," Helzer said. "This is a conference that is very supportive of students, many of whom are presenting papers for the first time. This success is a feather in our caps and in many ways helps to put our program on the map."
Graduate student Heather Lewis was awarded the CGS David Lantis graduate scholarship at the conference, while Stephanie Lopez was awarded the CGS David Lantis undergraduate scholarship.
In addition, anthropology student Alex Veasey took second place in the professional paper cartography competition for her archaeological site risk assessment within the boundary of last year's rim fire in the Stanislaus National Forest. Lopez and Benjamin Wright placed third in the same competition for their work in examining potential sea level rise and its impact on coastal habitats. Wright and Claire Sarraillé earned CGS student travel awards.
Eleven CSU Stanislaus students representing the geography, anthropology and agricultural studies departments attended the conference and were accompanied by advisors Peggy Hauselt and Alison McNally, both geography faculty.