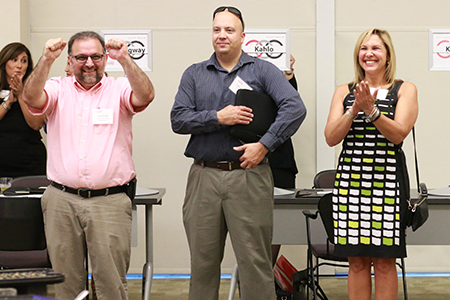 Pictured from left to right: One Purpose Divisional Leader Frank Borrelli, and volunteers Corey Cardoza and Brandi Lo Forti celebrate at the first weekly gathering during the four-week campaign.
As the first week of the third annual One Purpose campaign came to a close, volunteers gathered on campus Thursday evening to celebrate the initial pledges toward this year's fundraising goal. Three weeks remain for volunteers to gather community support for scholarships at Stanislaus State.
More than 150 volunteers are participating in the annual giving effort, which kicked off Aug. 25 and will conclude on Sept. 22. In the first week of the four-week campaign, more than $45,000 in pledges have been reported.
A highlight of the first week's fundraising effort was a $10,000 pledge made by Michael and Alison Allen of Allen's Mortuary in Turlock. The first week effort truly reflected a community of generous donors, with more than 100 individual pledges at all giving levels — from the $100 starting pledge level up to $10,000.
Alison Allen noted that it's this kind of collaboration and community support that has made the campaign exciting and successful over its first two years. "I was born and raised in Turlock, and I love this community," said the Stan State alumna. "We were very excited to be a part of starting something new when One Purpose began at Stan State two years ago. We have really enjoyed seeing the results of the teamwork that is involved in this campaign and it is really amazing that we can raise these funds for scholarships when we come together as a community."
This year's effort builds on the success of the first two years of the fund drive, which launched in 2014 and has raised more than $1.5 million. Volunteers are aiming to cross the cumulative $2 million mark with this year's effort.
Brandi Lo Forti of Hughson, a campaign volunteer, said that her family connection — both her son and niece attended Stanislaus — and her belief in the importance of a college education motivated her to participate.
"So many young people don't have the opportunity to go to college because they don't have the financial support they need and this is just one more avenue to give them that important opportunity," she said. "By giving to One Purpose, you are going to make a huge difference in someone's life — maybe more than one someone — and I think we all need to get on board with One Purpose for our community."
Every dollar raised by One Purpose volunteers goes directly to student scholarships. Since the launch of program in 2014, more than 500 students have received One Purpose scholarships.
"The American dream is to get an education and apply it to a good career, and then to give back to the community," said Margaret Xiong, a One Purpose scholarship recipient. Xiong will be studying in Thailand this fall and returning next spring to enter the credential program at Stan State. Her career ambition is to teach English internationally and then return to teach here in the Central Valley.
"Coming from an immigrant family, knowing this community has invested in my education is an honor," Xiong said.
Those interested in more information — or in giving to One Purpose — can contact the Division of University Advancement at (209) 667-3131 or visit www.csustan.edu/one-purpose.