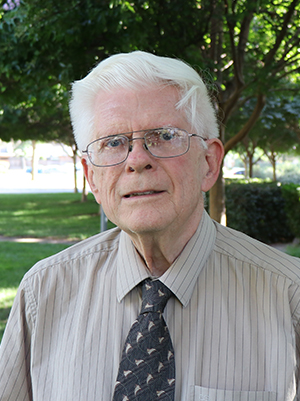 When Edward Erickson arrived at Stan State, a blackboard hung on the wall in the front of the classroom, and he wrote on it with chalk to teach his students economics.
Now, 50 years later, Blackboard is an online teaching portal he's using during the global COVID-19 pandemic to continue imparting his knowledge to students.
One thing hasn't changed, though, for Stan State's 2020 Outstanding Professor.
"Economics matter. You look at the world today, and you see it does matter," Erickson said.
He has declared that message since arriving in 1970, but this is the first time he's been honored with the Outstanding Professor Award.
"Some of the students pushed for the award, and one of the other professors in my department coordinated the letters," Erickson said.
He hasn't needed honors or recognition to find reward in his job. From the time he graduated from USC with his doctorate in economics after earning his undergraduate and master's degrees in his hometown at UC Riverside, Erickson found his calling.
"I was at USC when it was time to look for a job. I didn't want to leave California, and the department chair at the time, Fred Cottke, was a graduate of USC and was interested in people from USC," Erickson said. "That's how I ended up in Turlock. I started teaching and never stopped."
While teaching methods have changed in his 50 years at Stan State, so too has Turlock and the University campus.
He used to tell Southern California visitors heading north on Highway 99 to turn right at the second stoplight on the highway, the first being at Livingston.
Once in Turlock, Stan State was a few buildings that dotted an expanse of undeveloped land.
"Monte Vista Avenue was a two-lane road with no curbs, sidewalks or gutters," Erickson said. "Geer Road was a two-lane road. You could count the traffic signals on one hand. There was partial farmland on all four sides of campus."
The student body was between 1,500 and 2,000 students; the Turlock population was 15,000, he said.
Faculty members all knew one another, no matter their department.
1970 Stanislaus State College Faculty Directory
The student population growth — to more than 10,000 — hasn't changed the philosophy at Stan State, according to Erickson
"One of the things that stands out, that has remained, is a particular dedication of the faculty to students," Erickson observed. "Sometimes that could be lost with a larger university, but that has been maintained here."
Population isn't the only increase Erickson has seen during his tenure. More majors and specializations within majors have been added along with more buildings.
"There were two buildings when I got here, the classroom building and the old science building," Erickson said. "The art complex came on fairly soon."
The dorms consisted of one building on Geer Road.
In time, they gave way to age and the current dorms were constructed. Dried fields of grass and weeds were landscaped. Water features were added, and the campus eventually transformed into the scenic place it is today.
What hasn't changed for Erickson, the father of a son and daughter who both teach at the college level, is a love of teaching and guiding students.
In addition to his teaching, Erickson has long served as a faculty representative for the University Student Union, now University Student Center board.
The current viral pandemic may have turned his classes on their ear as he scrambled to continue teaching, but he's also able to use the crisis as a learning tool.
In his money and banking course, Erickson already had covered monetary policy and the institution of the federal reserve system when classes moved to virtual formats.
"Now, they can look at what the federal reserve system is doing," he said.
Similarly, students in his investment class had learned how the stock market operates and, "I tell them they won't witness an event like this again in their lifetimes." Erickson said. "This is very different from the financial crisis of the real estate crash."
Or the Great Depression.
The economic fallout will affect different segments of the population in different ways. But the economics will matter to everyone. And Erickson is going to be there to keep explaining it to his students.
In a most outstanding way.