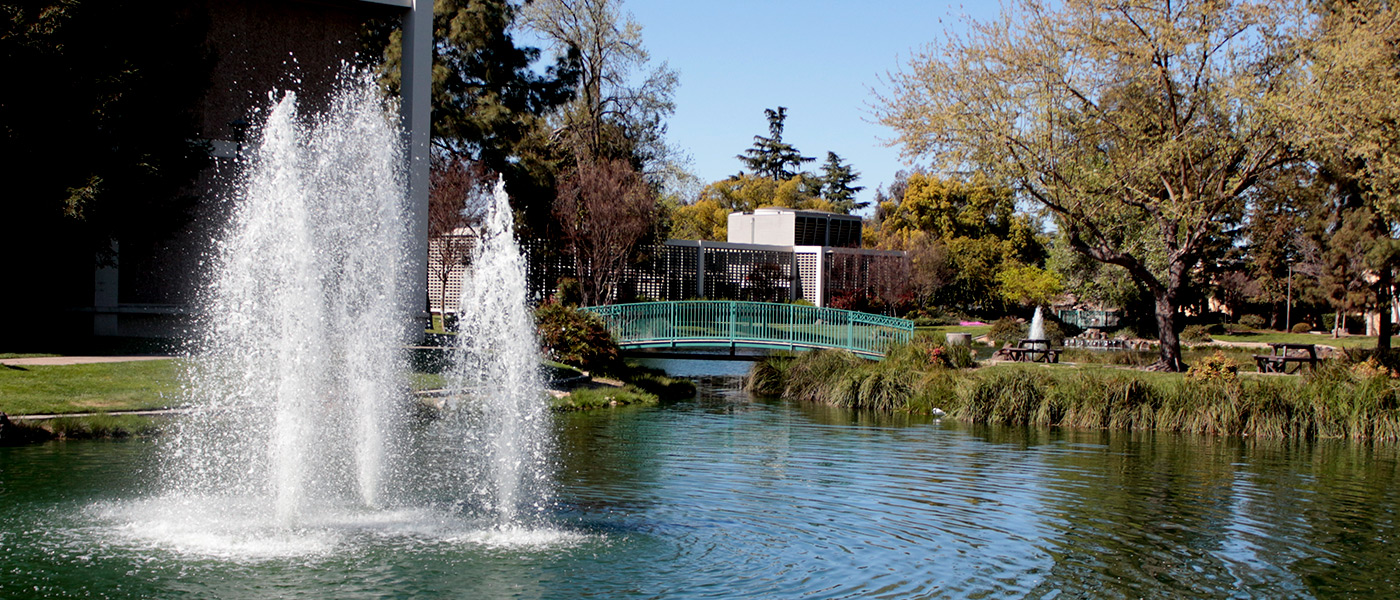 The drought plaguing California has led Governor Jerry Brown to issue an emergency declaration, requiring state agencies — the California State University included — to reduce water usage by 20 percent and put a moratorium on new, nonessential landscaping projects.
CSU Stanislaus is doing its part and much more, thanks to water conservation measures already in place and future plans that aim for a high level of sustainability.
"No one can predict how long a drought will last and what the state's water situation will look like in the future," said Melody Maffei, Associate Vice President for Capital Planning and Facilities Management. "But between the short- and long-term measures the university will be taking, we believe CSU Stanislaus will be in good shape when it comes to water conservation going forward."
The university has already put in place an irrigation system that uses reclaimed water from the reflecting pond. Any new, state-funded buildings since 2004 are fitted with low-flow faucets, toilets and urinals. Drought-tolerant vegetation has been used in all new or renovated landscaping projects over the past four years, and the university has implemented "green" custodial practices, with equipment and chemicals that require less water.
In addition to those steps, CSU Stanislaus has instituted a number of new measures to conserve water per the governor's decree.
Short-term plans include: reducing the amount of water used for irrigation and landscaping; implementing water-conserving fixtures in faucets, toilets, urinals and showers across campus; reducing washing of state-funded cars and other vehicles; reducing the height and running-time length of fountains in lakes; and beginning a marketing campaign to educate the campus about ways to conserve water.
In the longer term, the university plans to: install meters to track water use at individual buildings, lakes and landscaped areas to identify areas to address; reduce the amount of lawn and turf around campus and replace some with drought-tolerant plants; reclaim condensation water from HVAC systems and use it for irrigation; and consider the elimination of some of the campus' smaller water features.
"Everyone on campus has a role in helping to conserve water," Maffei said. She asked that students, staff and faculty on campus who have suggestions about new ways to conserve water — or who have noticed leaky faucets or toilets, broken sprinkler heads or any other issue that appears to be leading to wasted water — contact Facilities Services at facilities_services@csustan.edu or (209) 667-3211.