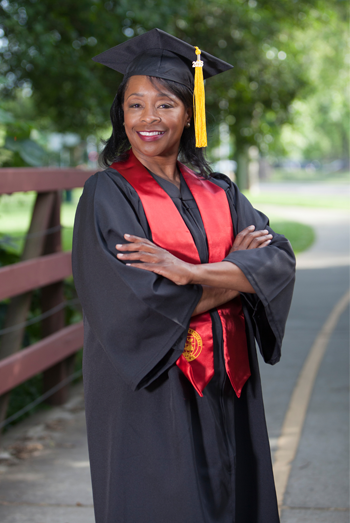 As a child in Oklahoma City, Althea Fortune McClam always dreamed of going to college. She still remembers being eight years old and announcing to her family, "I want to go to UCLA."
"I don't know how I knew that," she said. "I think I saw something about UCLA on television."
By the time she was ready to graduate from high school in May 1970, college was nowhere on her personal horizon. "My mother died when I was 16 and life was never the same after that," she explained. "There were six children still at home. I was the oldest. I became the makeshift mom. I took care of everybody. After graduation, I went out and got a job."
Her dream, however, stayed with her. And on May 24 — nearly half a century after finishing high school — her persistence paid off. She graduated from Stanislaus State with a Bachelor of Arts in Social Sciences.
"I can't believe it's happening," she said days before participating in graduation ceremonies. "I just want my degree in a frame, hanging on the wall. I've been to graduations for my nieces, nephew and foster son, and I always felt that one of these days it would happen for me."
Between 1970 and 2018, McClam's life took its share of twists and turns. That first job out of high school paid only $70 a week and $17.25 of it was withheld for taxes. She knew she could do better. When she moved to California in 1974, she was thrilled to learn that community college was free, and she quickly signed up for classes at Laney College in Oakland.
"From then on, it was just start and stop, start and stop," she said of her college attendance. "Life just happened."
"Life" included getting married, taking in a foster child and raising him to be a responsible adult, moving to Stockton and commuting to Santa Clara County, where she worked as a correctional officer for 16 years. It was a job that came with challenges, but she had a passion for it and immersed herself into helping women in the jail improve their lives. She was instrumental in creating a program for them that included a General Equivalency Diploma element, drug education, counseling, healthy cooking classes, marching and drill. Over time, she said, tracking showed the program's recidivism rate dropped significantly as many participants used their new skills to build better lives after they left the jail. Overall, she found the work to be very rewarding.
"I like affecting positive change in people's lives," she said. "A lot of young women really need help, and I like being able to help them."
In the midst of her career, her husband died unexpectedly. After that, she retired from Santa Clara County and, once again, started dreaming about college. This time, she knew she could make it through. She enrolled at San Joaquin Delta College in Stockton, earned an associate degree in 2015 and transitioned to the Stanislaus State Stockton Center to earn a bachelor's degree.
In mid-May, as she talked about her upcoming graduation ceremonies, she couldn't help but think of her late husband and what he might say about her accomplishment. "He was only 45, and he was the love of my life," she said wistfully. "He'd be so proud."
She also started to think about what comes next for her. A vacation to relax? Definitely. A trip to the East Coast to visit her foster son and granddaughter? Maybe. Returning to school to earn a master's degree? Perhaps.
"I might go on with my education. I might go for a master's," she said. "I'm thinking about it."