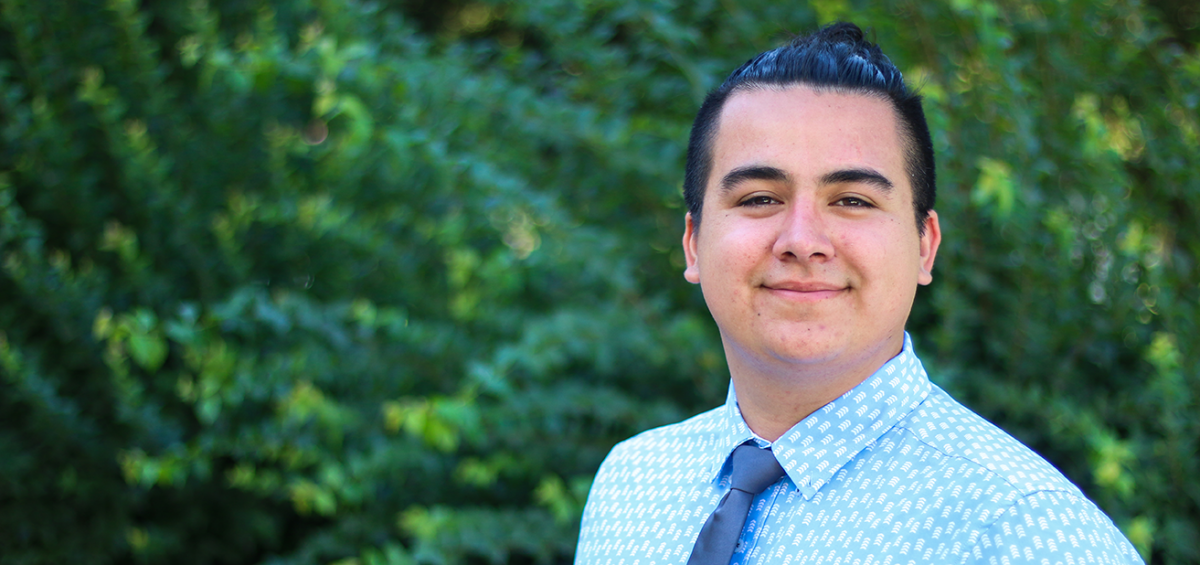 James Octaviano Green likes to use his middle name whenever he can, because it's the name of his grandfather, and he's proud of it.
The resident of Hickman, who graduated from Hughson High School, is making his parents proud by pursuing his college education and exceeding their expectations with his eye on graduate school, thanks to the McNair Scholars Program.
"It was never really not an option," Green said. "My mom and dad made sure the only thing I was thinking about after high school was going to college. They said, 'As long as you go and get your degree you can do whatever you want, but we're going to tell you to get your degree.'"
He said he was late in applying to CSU schools and was accepted at Humboldt State. He imagined that would have been ideal for a biology major, being among the redwoods, but his parents suggested Stan State and told him he could later transfer.
"I wouldn't have done well away from family right out of high school," Green admits, and once he got to Stan State, never thought of leaving. It was a good fit for the young man whose mom remembers him sitting in the garden as a toddler, pulling the green worms off tomato plants, setting him on his path to biological studies.
"I love biology," Green said. "I love animals, love going outside, love nature, love learning how life works and how it functions. I decided on biology because that's the field I want to get a job in. When I get a job, I want it to be in biology, working with living things."
As a McNair Scholar, which guides first-generation and underrepresented students toward graduate school, Green will have the opportunity to learn just what kind of work is out there for a biologist.
"Last January I went to a biotech conference in Anaheim and there were a bunch of biologists everywhere talking about what they were doing. There were some students from Cal Poly and they had grown artificial bone in the lab, which I thought was amazing. It blew my mind. I went up to their poster and started talking to them, and introduced myself. I was flabbergasted. Growing bone has never been tried and they were doing it as undergrads. It was pretty awesome."
A co-worker in Stan State's OIT told Green about the McNair Scholars Program and he's one of six students who make up this fall's cohort.
"I don't think people know enough about graduate school," Green said. "They think it's just more college. Some grad schools will pay you to attend, like Ph.D. programs. They want you doing their research and they want to have you publish papers. You can really benefit, not just from more education, but doing something new you like."
The McNair Scholars Program prepares participants to apply for graduate school, sends them to conferences and on campus visits, in addition to requiring a research project, something they'll have to do in graduate school.
Students are matched with a mentor, and Green will continue to work with Biology Professor James Youngblom, with whom Green has worked in the lab. Green said they're using technology to study and extract elements of DNA.
Ultimately, Green wants to create cancer treatments that have better outcomes with less damaging consequences on the body.
For now, Green dreams of attending Cal Poly and to live up to the legacy of Ronald McNair, the physicist who was killed with the seven-person crew of the Space Shuttle Challenger in 1986.
"He's like a genius," Green said. "He received honorary doctorates from so many different universities and that's amazing. You're on a different level that so many universities think you deserve an honorary Ph.D. We have the same birthday — Oct. 21. He was born 49 years before me. That sealed the deal. I want to do this.
"I want to pay respect to him, rise up to the challenges of education. We're kind of carrying a little badge of honor around in the McNair Program. We're carrying around this message that anyone can achieve what they want to."