​Event Leaders View Program as First Step Toward Conversations, Change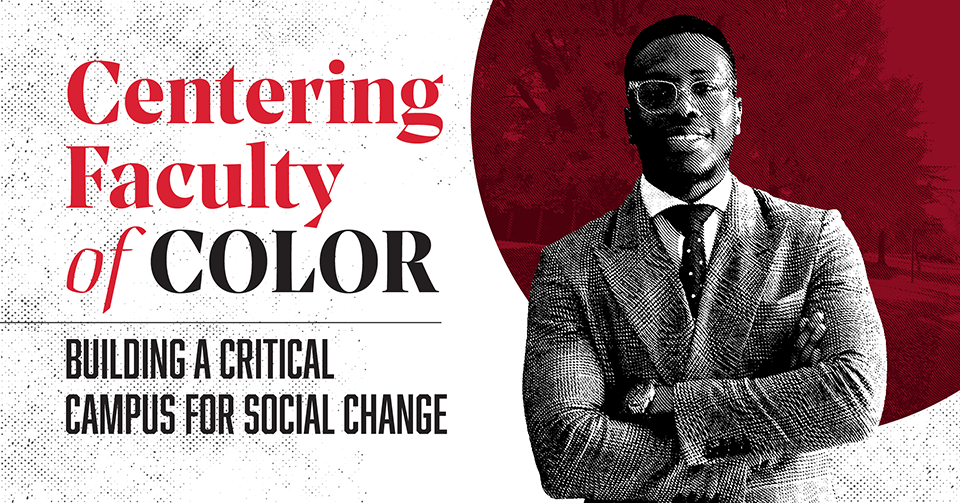 Inspired by the words and work of the keynote speakers of the Centering Faculty of Color Forum, Stanislaus State faculty have taken action.
Melina Abdullah, one of the founders of Black Lives Matter and Ethnic Studies professor at California State University, Los Angeles and Daniel Solorzano, UCLA professor and inaugural director of the UCLA Center for Critical Race Studies in Education, motivated the event's steering committee to send 10 recommendations to the Office of the President, Office of the Provost and Office of the Assistant Vice President of Faculty Affairs.
Provide ongoing campus trainings that address critical issues surrounding race and ethnicity using a social justice/equity lens.
Reimagine policies that lead to accountability and the overt demonstration of support for professional development efforts, specific to faculty of color.
Support and develop workload units for those engaging in diversity, equity and inclusivity work.
Recruit and hire more faculty and staff of color who have participated in social justice/equity-related activities.
Address and compensate the ongoing cultural taxation of faculty of color, such as offering course releases for equity work.
Include recognizing/evaluating diversity, equity, and inclusivity work as part of promotion/retention for all faculty. 
Collect quantitative and qualitative data through an equity/intersectional lens in an effort to elevate the voices and validate the experiences of faculty of color.
Conduct racial/intersectional audit of classes (similar to the California Community College proposal mentioned in the forum by Solorzano). 
Break ties with community partners that do not support diversity, equity and inclusivity matters, while simultaneously exploring new and potential resources. 
Increase opportunities for faculty, staff, and students to collectively engage in diversity and equity work.
Building Community, Solidarity
The recommendations will be the foundation of ongoing discussions at all levels of the University according to Jason Myers, Associate Vice President, Faculty Affairs.
"A lot of them will take a lot of time, will need planning committees to fully accomplish, but something that would be quick is to provide some type of funding to support a safe space for folks to engage and address these issues," said Michelle Soto-Peña, another steering committee member and assistant professor of Liberal Studies.
Building community and solidarity, an important issue for Soto-Peña, was just one theme to emerge during the forum that not only offered passionate and scholarly keynote addresses but sparked lively dialogue among Stan State faculty, students and staff.
Equity versus equality and the cultural taxation on faculty of color were of greatest significance to steering committee member and program moderator Xamuel Bañales, associate professor and director of the Ethnic Studies program. Equality has to do with giving everyone the exact same resources, whereas equity involves distributing resources based on the needs of the recipients.
"It's not that we arrive on campus and, all of a sudden, there's this extra burden," Bañales said. "That's one level. The other level is, as people of color in a white supremacist context and racist country, we also carry that burden outside of our jobs. It becomes more complex, and people who are not racialized don't understand that. It's difficult to be on a campus that is understanding things through equality and not equity. They are very different. In the forum we were able to talk about these issues and I'm hoping we can move more toward these conversations about equity. Then the conversation will change."
Further, the work Bañales does for social justice and in support of underrepresented students is not acknowledged in a practical way. He advises two student groups and has been asked to advise a third. That type of work, the cultural tax, needs to be a part of the evaluation equation, he said.
The forum was funded by a portion of grant money awarded by the Office of the Chancellor to attract and retain faculty of color. The remainder of the grant will be used in Spring 2021 for Stan State Professors John Garcia and Kelvin Jasek-Rysdahl to lead a participatory action research (PAR) study.
"The PAR model is one in which those being studied are active participants in the research project," Myers said. "Our PAR study will engage 10 current Stanislaus State faculty members in examining the lived experiences of underrepresented faculty and guide action for improving campus practices related to recruitment and retention of underrepresented faculty."