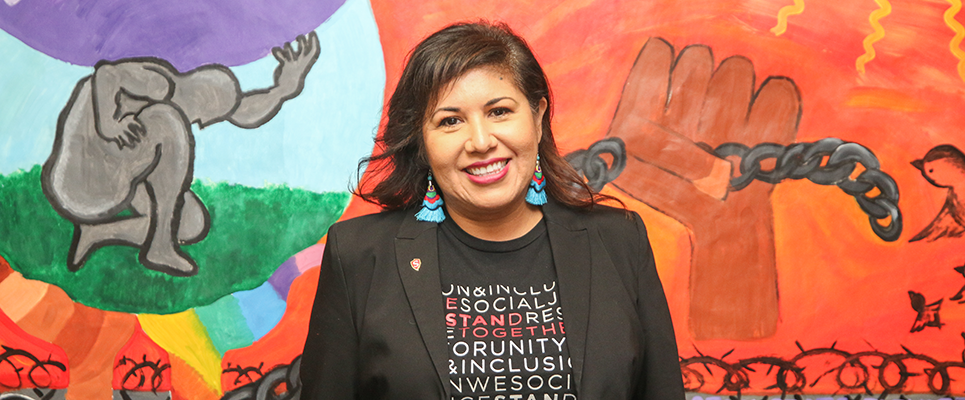 In her first year as director of the Stan State Diversity Center, soon to be called the Warrior Cross Cultural Center, Carolina Alfaro worked on programs to create a space at Stan State where students with various beliefs, backgrounds and causes would feel safe.
As she begins her second year, it's "time to build bridges on and off campus with stakeholders who support that mission," Alfaro said.
To that end, she's begun serving on Representative Josh Harder's Multicultural Community Advisory Committee, which aims to promote inclusiveness and representation of the diverse community in the district.
"The goal of the group is to ensure that Representative Harder gets direct feedback on a regular basis from community members who are in touch with the needs and concerns of our diverse community," according to Ian Lee, Harder's communications director.
Made up of about 20 representatives from organizations in Stanislaus and San Joaquin counties, the committee, started in early 2019, now includes representatives of higher education with the addition of Alfaro and a representative from Modesto Junior College.
Alfaro was approached by a colleague who serves on Harder's staff, and when she learned the group's goal is to promote inclusiveness within Harder's congressional district, the long-time community organizer and activist agreed to join.
"One of the things that struck me was a large portion of what they're doing is trying to bring awareness to the needs and challenges of our community," Alfaro said. "They're trying to increase knowledge of what programs or events and community partnerships exist that would support our community. I thought it was a good opportunity for our University, alongside other community organizations and agencies, to engage with families in our community in very meaningful and culturally appropriate ways. It aligns perfectly with what we're trying to do as a University."
With a seat at the table, Alfaro envisions sharing ways in which the University supports students, many of whom come from Stanislaus County.
"We can share our multicultural practices, whether it's student services, courses, immigration services, all types of resources, and we can discuss how we are supporting our students," she said.
Additionally, Alfaro wants to let the community know what the campus has to offer for everyone.
"For me, what's important is to ensure the community feels this campus is theirs," Alfaro said. "They have an opportunity to learn what's happening and feel more included. We're creating that bridge, helping them see it's accessible for their children or members of their organization."
Education is a two-way street when it comes to Harder's committee.
Attended her first of the monthly sessions, Alfaro heard an introduction to what the congressman is trying to accomplish. He shared with the group the House of Representatives proposed justice and policing legislation that comes in the wake of nationwide protests for social justice and police accountability. The proposal would regulate how police departments operate, stop racial profiling and establish a database for police encounters among other actions.
"For me that's good to know," Alfaro said. "This is the information I can share with our campus, with stakeholders having similar conversations. The President's Commission on Diversity and Inclusion at Stan State is having these kinds of conversations as well. It's something I was not aware of until I learned about it at the meeting."
Something else she learned: she's not alone. She discovered members of other organizations who share her passion for making the world safer, more just and more equitable.
"It was exciting for me to know we have shared responsibility, more than anything, to look for meaningful ways to address the needs of our community," Alfaro said.