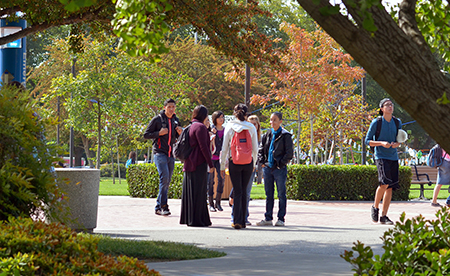 The Stanislaus State community has heeded the call of President Joseph F. Sheley and has scheduled a full slate of events to advance the campus conversation on inclusivity.
As such, the Committee on Affirmative Action and Diversity has worked with other groups on campus to drive the conversation through a series of talks, discussions and performances throughout February.
"While this truly is a complex issue, the conversation should at the very least examine whether or not access to opportunities within our campus is open equally to all and whether all segments of the campus community feel welcomed, valued and integral," Sheley wrote in his President's Update to faculty and staff. "If not, how do we go beyond tolerance and accommodation and achieve a more positive level of equality and inclusion?"
Sheley went on to urge the community not to simply watch these presentations from a distance, but to participate in the conversations. Doing so, he wrote, will set the tone for provocative and respectful dialogue that will impact the campus and well beyond February.
Below is the schedule of on-campus events or events sponsored by the University that are open to the general public. Additional information for these events, as well as for others held off-campus and not sponsored by the University can be found HERE.
Anthony Christian Ocampo – The Latinos of Asia
Wednesday, Feb. 3, 2-3 p.m. and 6-8 p.m. South Dining Hall. Free.
Ocampo illustrates how second-generation Filipino Americans' racial identities change depending on the communities they grow up in, the schools they attend and the people they befriend.
Cecil Blutcher – Black History Month
Thursday-Saturday, Feb. 4-6, 8 p.m. Mainstage Theatre. $12 general, $10 seniors, students, faculty and staff.
Cecil Blutcher and Austin Ashford bring a night of hip-hop, spoken word and lively energy, presenting the world from a new perspective.
Amitis Motevalli – Feminist Perspective on the Labeling of Islamic Art
Tuesday, Feb. 8, 11 a.m.-1 p.m. Faculty Development Center. Free.
Motevalli, an artist born in Iran, explores the cultural resistance and survival of people living in poverty, conflict and war through multiple artistic mediums.
Karlos Hill – 21st Century Lynchings? Meditations on Police Shootings of Unarmed Black Men
Tuesday, Feb. 9, 7:30-9:30 p.m. Faculty Development Center. Free.
Hill is the founding director of the African American History Month Lecture Series at Texas Tech. His primary research interests include the history of lynching and racial violence in America and the anti-lynching movement.
Aisha Fukushima – Speaker, Singer, 'RAPtivist' (rap activist)
Thursday, Feb. 11, 7:30 p.m. Snider Recital Hall. Free.
Fukushima founded RAPtivism (Rap Activism), a global hip-hop project spanning 10 countries and four continents, highlighting the ways culture can contribute to universal efforts for freedom and justice by challenging apathy. Fukushima also will be hosting three student engagement sessions on Friday, Feb. 12.
Turlock Mayor Gary Soiseth and President Sheley – Leadership Summit on Inclusivity  
Friday, Feb. 12, 8 a.m.-noon. By invitation.
A series of round table discussions on topics ranging from religious and ethnic understanding to challenges faced by marginalized and oppressed groups in our community. This event is in partnership with the City of Turlock to include leaders from all areas of our community — government, religious, ethnic and others.
Hugh Vasquez – Ending Social Oppressions, Building Cross-Cultural Alliances
Monday., Feb. 15, 7 p.m. Snider Recital Hall. Free.
Vasquez is a senior associate with the National Equity Project in Oakland and a speaker and educator on social justice issues. He also will be hosting faculty discussions on Tuesday, Feb. 16.
Hmongstory 40 Project – Art Gallery and Exhibit Reception
Wednesday, Feb. 17, 5-7 p.m. Event Center. Free.
The Hmongstory 40 Project is a traveling exhibition of Hmong photographs, art, stories and artifacts that commemorates the 40th anniversary of the migration of Hmong refugees from Laos and Thailand to the United States.
Nigel Hatton – African and African-American Literature and Culture
Wednesday, Feb. 17, 2-4 p.m. Faculty Development Center. Free.
Hatton is an assistant professor of literature at UC Merced, where he teaches courses in 19th-, 20th- and 21st-century African and African-American literature and culture, human rights and literature, and the intersections of literature and philosophy.
Porsha Olayiwola – Writing Workshop and Reading with Q&A
Monday, Feb. 22, 11 a.m.-1 p.m. and 6 p.m. Faculty Development Center. Free
Olayiwola is described as a "Black, poet, dyke-goddess, hip-hop feminist, womanist, friend — a performance artist who believes in pixie dust and second chances." She also is the reigning Individual World Poetry Slam Champion. The morning session will be a writing workshop, while the 6 p.m. session will feature a 45-minute poetry reading and Q&A.
Marissa Aroy – film: Sikhs in America
Monday, Feb. 29, 6-8:30 p.m. Snider Recital Hall. Free.
Aroy co-directed "Sikhs in America," an Emmy Award-winning PBS documentary that profiles the Sikh community in the U.S. The film explores the maintenance of religious and cultural traditions while also participating in the American dream.
Marissa Aroy – film: Delano Manongs
Tuesday, March 1, 6-8:30 p.m., Snider Recital Hall. Free.
Aroy directed this Emmy-nominated film, which tells the story of the Filipino farmworkers who instigated one of the biggest labor struggles in American history — the Delano Grape Strike of 1965.