Leading More Than 300 Volunteers, John and June Rogers Have Stepped Forward to Serve as Chairs for the Inaugural Fundraising Initiative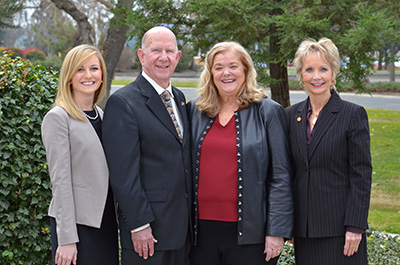 Jacqueline Holt, Director of Annual Giving; One Purpose Chairs John and June Rogers; Shirley Pok, Vice President for University Advancement
John and June Rogers have been longstanding partners with CSU Stanislaus, and this year they are lending their leadership to the launch of One Purpose as chairs for the six-week fund drive.
"Supporting education and providing opportunities for students to achieve success and reach their full potential is important," John Rogers said. "One Purpose will provide outstanding students with a valuable resource to succeed in their education: scholarships." 
More than 300 volunteers from the campus and the community will come together to carry out the vision of One Purpose at CSU Stanislaus. The six-week initiative will launch on Aug. 28 and utilizes teams of volunteers who will invite individuals to pledge their support for student success. The funds raised through One Purpose will go toward scholarships that will be available to outstanding students in all majors. 
"It would not be possible to launch an effort of this magnitude without the enthusiasm and support of leaders from both our campus and the community," said CSU Stanislaus Vice President for University Advancement Shirley Pok. "John and June Rogers are steadfast supporters of education, and their leadership will uplift our volunteers and inspire others to give. Together, we are raising the bar for student success, and that success will build a bright future for our region." 
The Rogers are joined by dedicated supporters from the campus community Steve and Nancy Jaureguy, as well as community leaders George and Karna Petrulakis, who will serve as divisional leaders for the campaign — each with 12 teams under their purview.
These dedicated individuals have committed their leadership not only to enhance student success at CSU Stanislaus but also to improve economic resources for the region. 
"One Purpose has the potential to change our community for the better in so many ways. When a group of dedicated volunteers come together for a common cause, our impact is amplified," June Rogers said. "The goodwill of volunteers paired with the generosity of donors will result in scholarships that will be awarded to our best CSU Stanislaus students. Those students will then be empowered by their education to reinvest in our community."
Under the leadership of the chairs John and June Rogers, One Purpose is pleased to announce the following divisional leaders and team owners who have graciously stepped forward to further student success at CSU Stanislaus:
George & Karna Petrulakis
Left Brain Divisional Leaders
Team Owners
John & Edith Jacinto – Team Lincoln
Vito Chiesa – Team Reagan
Mani & Jas Grewal – Team Kennedy
Pete & Bev Finley – Team Roosevelt
Dave & Cindy White – Team Eisenhower
Ed & Diane Persike – Team Washington
Brett & Diane Dickerson – Team Forbes
Adrian Harrell – Team Parks
Bowen & Michelle Cardoza – Team Churchill
Drew & Ashleigh Volk – Team Earhart
Curt & Sally Souza – Team Thatcher
Tony Dossetti – Team Ford
Steve & Nancy Jaureguy
Right Brain Divisional Leaders
Team Owners
Jim Tuedio – Team Kahlo
Ashour Badal – Team Mozart
David Lindsay – Team Einstein
Oddmund Myhre – Team Galileo
Reza & Behraz Kamali – Team Aristotle
Mike Matoso – Team Newton
Frank Borrelli – Team Sinatra
Sharon Silva – Team Picasso
Paul & Carrie Melgard – Team O'Keeffe
Debbi Agresti – Team Hemingway
Nelson & Debbie Gomez – Team Da Vinci
Mike & Alison Allen – Team Shakespeare
---