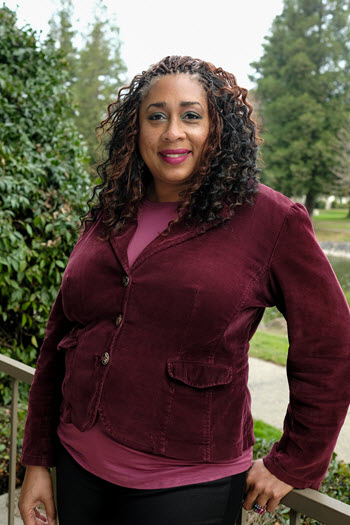 While exploring decolonial black feminism at a workshop in Brazil last summer, Mary Roaf, assistant professor of ethnic studies at Stanislaus State, kept in mind that it had been exactly 400 years since kidnapped Africans were first brought to America as slaves. 
To Roaf, uniting with fellow scholars and activists from three continents to learn more about strong African women, the long-term effects of slavery and the most promising paths to healing seemed like an excellent way to observe the anniversary. 
Now back on the Stan State campus, Roaf is enthusiastically sharing with students what she learned during her three weeks in Brazil. She is integrating new material into her teaching and collaborating with faculty in the Art Department to facilitate black power-themed art workshops in the courses she'll be teaching this spring. She also is starting to plan a program to take a small group of upper-division Stan State students to the history-rich Brazilian state of Bahia for at least two weeks, maybe a month.  
"Brazil has the largest population of people of African descent outside the continent of Africa, and Bahia was heavily involved in the transatlantic slave trade. It was brutal, and there are still a lot of issues there, including a color caste system," she said. "I already know the course I want to teach, and for students going into their junior and senior years, I think it would be ideal." 
While in Brazil, Roaf explored the small city of Cachoeira, birthplace of the country's independence in the early 1800s and a former hub of the slave trade that forced nearly five million Africans to work in the country's sugarcane industry for more than 350 years. It's not far from Salvador, a UNESCO World Heritage Site, where enslaved women secretly formed the Sisterhood of the Good Death in the 19th century to help other enslaved black people live and die with a semblance of dignity. 
The area is also the site of numerous quilombos — small communities established by runaway slaves — that tell the story of resistance to slavery and the strength of the African people. 
Roaf found the region's history inspiring and called her time there "life changing." After attending the workshop, she spent two weeks in Salvador visiting historical sites and laying the groundwork for her student travel-study program. She expects the program to be very affordable for students because the dollar is strong in Brazil and the exchange rate is favorable. 
She is also incorporating material from her travels into the second annual Black Power Matters event at Stan State, which is scheduled for February. Working with a team that includes other Stan State faculty and the Black Student Union, she is planning to include a professional performance depicting the life of a captured, enslaved African woman and a display of student art from the workshops conducted in her classes. 
The Black Power Matters event will be held from 5-8 p.m. Friday, Feb. 21, in MSR 130.