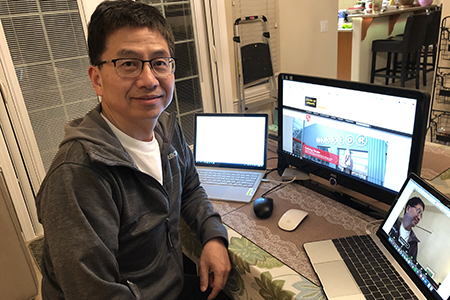 When asked why he volunteers as a faculty peer mentor helping colleagues to transition and adjust to virtual modes of instruction, Associate Professor David Zhu has a simple answer.
"Helping others is rewarding. Period," he said. "As a member of society and this community, it is my responsibility, and my great pleasure, to offer my hands to those who need them."
An accounting faculty member with a decade of experience teaching online courses, Zhu is one of 10 mentors who are helping other faculty members tackle technical and instructional challenges since the COVID-19 outbreak forced Stanislaus State to quickly transition from traditional classes to remote or online methods of teaching.
The mentors are organized by the Faculty Center for Excellence in Teaching and Learning. They hold open office hours on Zoom and are available for one-on-one assistance to ensure Stan State's students continue receiving a high-quality education.
For Zhu, it just made sense to help his colleagues navigate this period of dramatic change by drawing on the skills he acquired over many years of teaching online courses. And the fact that one of the graduate degrees he holds is a master's in computer science is proving to be a bonus.
"I understood the initial difficulties in the transition, and I knew the answers to many of the questions during the transition, from basic to more advanced," he said. "I understand how the systems run, and I have used many different software applications, many of which may be helpful in online teaching."
In addition to solving technical challenges, Zhu said he and the other mentors help colleagues adjust their teaching methods and take full advantage of the features available in the online programs they are using.
"For example, to enhance interactions among students as well as with the instructor, we may suggest they use VoiceThread's commenting function for students to communicate on a specific set of topics when they study them," he said. "Or, they can use Zoom to form a synchronous online classroom and use the breakout rooms to have students do group discussions on certain topics."
Not every good idea comes from the mentors, he notes. Often, the mentees figure out creative solutions to problems and share their ideas with the rest of the group.
"For example, my colleague Gina Donahue explored privacy issues when using the attendance tracking in Zoom and found a solution by using the waiting room feature to inform all participants," he said. "She shared this and all of the details of her research with us."
Overall, Zhu said he believes the University's transition to virtual and remote instruction has gone smoothly and was a smart move, because it protects everyone's health. He applauds the administration for moving swiftly and his colleagues for being reasonable, patient and hard working through the transition.
It doesn't surprise him to see his colleagues pull together when faced with such a large challenge, because they have developed a sense of community that follows them wherever they go.
"Faculty help each other every day, and this is very heartwarming," he said. "I can say that if you ask a question in the faculty community, you will immediately receive a number of helping hands — virtually. We are a united people."