New Gallery and Student Workspace Opens in Downtown Turlock
With Ribbon Cutting and Faculty Exhibition
​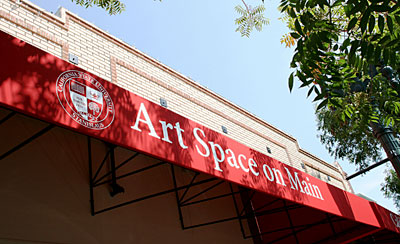 ​California State University, Stanislaus has a new cultural presence in Downtown Turlock, as Art Space on Main has opened with an exhibition of faculty artwork.
The new gallery, which also features workspace for students in the University's Bachelor of Fine Arts program, opened with a ribbon cutting on Sept. 5 — coinciding with CSU Stanislaus Night at the Turlock Farmers' Market.
"Many local residents come to campus to enjoy art, theater and music events, as well as sporting events," President Joseph F. Sheley said. "It gives us great pride to also be able to reach into our local communities in new ways and meet so many of our alumni and supporters."
Art Space on Main is housed at 135 W. Main Street, in a historic building that has undergone significant renovation and restoration over the past year. The original hardwood flooring and brick walls have been reconditioned, and much of the new woodwork in the building was custom built from the original floor joists, which were removed during seismic retrofitting.
The result is a charming facility that will feature work by local artists and University faculty, students and alumni. Art Space, managed by University Art Gallery Director Dean DeCocker, is open to the public from noon to 5 p.m. Monday through Wednesday and from noon to 9 p.m. Thursday through Saturday.
Art Space's first exhibition, "Art Faculty on Main," is scheduled to run through Oct. 24. The public will also be able to view student work in the shared space between the gallery and Memo's Cocina & Tequila Bar whenever either facility is open.
"Having an art gallery and student workspace in Downtown Turlock will help expose University artists to a wider audience, while also providing local residents with a new venue in which to enjoy high-quality art exhibits," said Roxanne Robbin, chair of the Department of Art. "Art Space on Main has the potential to become a regional source of pride and culture."
In addition to traditional art exhibits, Art Space on Main will be the new home of the Building Imagination Center, a video arts exhibit space with a focus on the creation of new and original films in and about the Central Valley. The center, which first opened in Modesto in 2012, already has a number of events scheduled to bring local filmmakers together. Video arts exhibits are in the works, according to professor and center director Jessica Gomula-Kruzic.
"We are excited to be able to offer the community so many different avenues into the arts through a single facility," she said. "Our hope is that the gallery and studios will facilitate greater interaction between the community, the University and the arts."