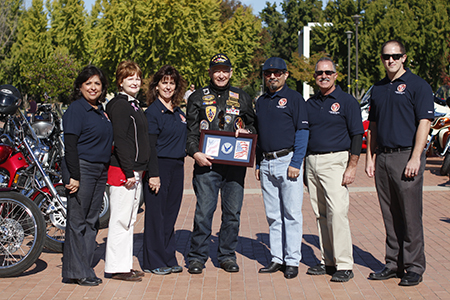 Honoree Eugene Simmons (center) with members of the Stanislaus State Troops to College Committee.
Eugene Simmons was one of roughly 30 veterans who rode motorcycles onto the Quad at the California State University, Stanislaus campus for Wednesday's seventh annual Thank A Veteran Ceremony.
The act itself didn't seem so impressive until you realized that Simmons, 88 and a Navy and Air Force veteran of both World War II and the Korean War, rode in from his home in Milpitas for the event — roughly 95 miles one way.
The event is co-sponsored by the Stanislaus State Veterans Affairs Office and Troops to College committee. It included a bugler's call, a formal flag-raising, a presentation of arms by the Turlock High School Navy JROTC, and was followed by a reception to allow the students and veterans to mingle.
Simmons, who made the ride for a second straight year, said he wouldn't miss it.
"I'm very happy that we're a part of the University, if only for a day," said Simmons, who retired following a long career with the San Francisco Police Department. "We can come here and share with the students, and when they respond and share with us it brings meaning to all our lives."
That was similar to the message offered by University President Joseph F. Sheley, who addressed the gathering.
"Every time I come to this I'm impressed with the generational connection," Sheley said to the veterans. "Everything you've done to this point has been an inspiration, and that inspiration is why we have so many today joining the military voluntarily. I'm impressed with all of you, for what you've accomplished and what you've done for your country."
In attendance at the ceremony was Guido Gualco, who embodies both the soldier and the student aspects of the event. A Fremont native, Gualco served in the Marines from 1987-91, and was active during Operation Desert Storm/Desert Shield.
Gualco said the reaction he gets when classmates find out he's a veteran is overwhelmingly warm, even if some students might not fully understand the military's role in protecting their freedoms.
"We know the support is there, but sometimes it's hard to see," Gualco said, motioning toward the center of the Quad. "I just saw someone over there using the American flag as a scarf. If she was in another country she could be killed for that. It may irk me, but it's all freedom of speech and that's one of the things that all of us fought to defend."
Gualco, 47, earned a degree in the culinary arts and worked as a chef. But after burning out in the kitchen he's at Stanislaus State studying kinesiology with a physical education concentration. He wants to become a grade school P.E. teacher.
"It's cool to get this kind of recognition as a veteran," Gualco said. "You not only get to see the students and the professors out here, but you get to be around the people who went before us. It's great to see guys, especially the World War II guys, out here still doing their thing."
For more information, visit the Stanislaus State Troops to College committee website.