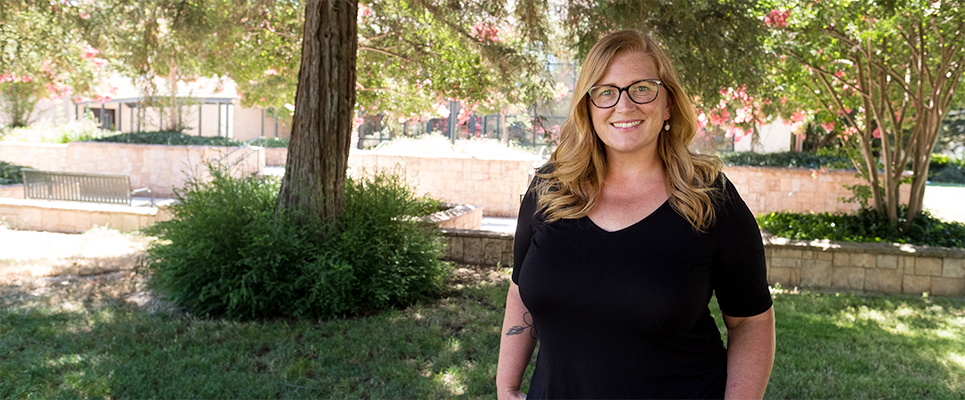 Melana Cook has always had a thirst for learning. As a child, she preferred to read while the rest of her family watched TV. On summer visits to her grandparents' home, she spent hours hunkered down with their saved issues of National Geographic magazine.
"What the content of the book or article was in those moments did not matter," she recalled. "There was an innate need in me to absorb all I could."
As Cook progressed through elementary and high school, the Modesto resident emerged as an over-achiever, certain she was headed for a four-year college. But her family's finances could not support her personal vision, and her only option after high school was the most affordable one — junior college.
"It was not the journey I wanted for myself," said Cook, who was 19 at the time and unable to move past her disappointment. "I withdrew after only one semester, losing motivation in most areas of life."
Twenty years later, after being a stay-at-home parent to three children and re-entering the workforce as a bookkeeper, Cook rediscovered her lost motivation and enrolled at Modesto Junior College as a 39-year-old freshman determined to eventually transfer to a four-year university.
"I was in control this time, and no expectation of what college life was supposed to look like was going to keep me from finishing," she said.
This fall, she will start the final leg of her educational journey when she enters Stanislaus State to major in business administration with a concentration in accounting. As one of six students to receive the first President's Central Valley First-Generation Scholarships, Cook will be assisted with $12,500 a year for two years to cover tuition, fees and other expenses. She will also receive a new laptop computer and ongoing support from dedicated professional and career mentors.
As she completes her college education, Cook will be juggling a job, motherhood and a heavy course load. She says the financial assistance will help ensure she can reach her academic and professional goals, and for that she is grateful to Stan State President Ellen Junn and the scholarship fund contributors.
"This scholarship means the world to me," she said. "When others are starting careers with a bachelor's degree in hand at the age of 24, I'll be late to the game by 20 years. Although I may always be playing catch-up in a personal wealth sense, being awarded this scholarship means I won't have years of student debt to carry as well."
Once she has her bachelor's degree in hand, she wants to work in finance or accounting. She hopes to someday give back to her community by working for and raising awareness about benefit corporations, which are for-profit entities that include positive impacts on society, workers, communities and the environment as legally defined goals. She notes that there is only one benefit corporation established in the Central Valley. She would like to change that by spreading the word about the advantages of becoming a benefit corporation and helping companies form as benefit corporations.
"There are strides to be made in social and environmental justice, and I want to be a person who makes a lasting difference in the business ethics of my community," she said.