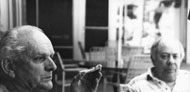 The 24th Annual Regional High School Art Show
April 20 - April 24, 2009
Artist Reception, Friday, April 24 at 6:00 pm
The show, featuring work from high schools in the Stanislaus County region, was originally started in 1985 by Turlock High School Art instructor, Bob Dennison and Ann Williams-Bailey from Roselawn High School. Since its inception, the show has grown to exhibit more than 200 pieces of student art every year, representing 10-12 high schools in the region.
Reflecting on the history and importance of the show, Pitman High School Art instructor, Larry DeTomasi stated, "This show represents so much more than the raw talents of the youth in our community. It provides an avenue for students to express themselves and connect with their peers through personal growth and cooperative learning experiences." Mr. DeTomasi also acknowledged, "We are grateful for the generosity of private donors and the assistance of California State University, Stanislaus Art Department chair, Gordon Senior and Gallery Director, Dean DeCocker. It is an important part of the learning experience for students to see their work exhibited in a professional venue like the University Art Gallery." For many years this annual exhibition was held at the Carnegie Arts Center which was severely damaged by a fire in 2005.
Pitman High School Principal, Rod Hollars supports the exhibit noting that, "The arts engage all students in education, from those who are already considered successful and are in need of greater challenges, to those who would otherwise remain disconnected and at risk of not being able to realize their own potential for success." Mr. Hollars notes research that shows having Art education in our schools "allows students to develop critical thinking and problem solving skills that enhance learning in all subject areas."Students will be awarded prizes in the following categories: Sculpture, Ceramics, Color Drawing, Black & White Drawing, Mixed Media, Painting, Digital Arts and Photography. There will also be a scholarship awarded to winner of the Best of Show award. Some of the community sponsors of the show include Geiger's Jewelry, Coldwell Banker Endsley & Assoc., Ferrari Family Foundation, Artel, Gemperle Farms, The Tower Health & Wellness Center, Reveler's Ranch, O.C. Farms, City of Turlock Councilmen, Kurt Spycher & Ted Howze, City of Turlock Arts Commission, and California State University, Stanislaus.