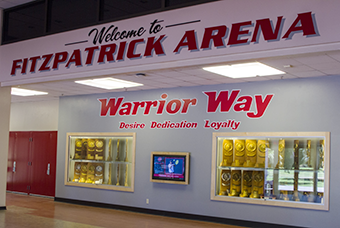 The two-year facelift was finished in mid-August, just in time to welcome a new generation of Warriors.
Fitzpatrick Arena, which had undergone only slight cosmetic touch-ups and upgrades since opening in 1978, now exudes a sparking pride, reflecting the competitive uptick of the Stanislaus State athletic programs that call it home.
"The upgrades to the gym and the lobby will help our coaches attract quality student-athletes to our University," said Kim Duyst, interim director of athletics.  "We anticipate drawing larger crowds, which will enhance the game day experience for all the fans and athletes."
The first event in the Arena was the Aug. 21 Freshman Convocation, filling the stands with first-year students stepping into the facility for the first time — they were encouraged to return to the Arena often to cheer on their fellow Warriors.
With the much-needed renovations complete, Stanislaus State's athletic facilities across the board can compete, not only with the rest of the California Collegiate Athletic Association, but with most of the country's 312 NCAA Division II universities.
The summer of 2016 brought the first phase of the renovation — the installation of air conditioning. That was an upgrade appreciated throughout the volleyball and basketball games played last fall and winter, as well as by the myriad classes that use the facility on a daily basis.
As soon as the spring semester ended, the arena was gutted and the second phase began. The original floor was pulled out, as were all the old wooden bleachers. A new floor was installed, painted with a new color scheme and updated Warriors graphics, and sealed to ensure a long-lasting and consistent playing surface. New plastic composite seating was installed, featuring 650 chair-back seats.
The renovation also included a complete makeover of the lobby, which now features photos and an interactive touch-screen video display panel that highlights the accomplishments and spirit of Warrior athletics. New trophy cases spotlight the Warriors' NCAA national championship history.
"It's a great athletic environment for not only student-athletes, but the student body, and I hope it continues to help out our athletic programs," said women's basketball coach Wayman Strickland. "Much like the University, our athletics continue to shine and this shows that we're not just a 'hidden gem' anymore."
The second phase of the improvement, with a price tag of approximately $1 million, was made possible in part by additional donations from Ed and Bertha Fitzpatrick — longtime supporters of the University and Warrior Athletics — whose names have graced the Arena since 2010.
"My family and I are grateful we can continue to support Warrior Athletics at Stan State," Ed Fitzpatrick said in 2016. "We consider the floor and seating replacement project in the Arena a win for the students and the community, and we wanted to be a part of it."
For the complete Stan State athletics schedule, visit http://www.warriorathletics.com/.