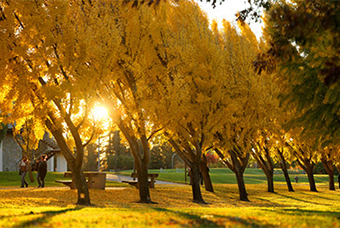 National publications that come out with annual lists and rankings of top universities often update their methodologies to better reflect the changing culture of higher education.
But no matter the changes they make, Stanislaus State continues to be recognized for the way it serves its students and the region.
In the past few months, the University has been at or near the top in several rankings and lists produced by national publications — most recently in the highly regarded annual college editions published by MONEY magazine, Washington Monthly and the Princeton Review.
MONEY listed Stan State as the top public university and No. 6 overall for "helping students do far better than would be expected from their academic and economic backgrounds." Their ranking graded colleges according to graduation rates, post-graduate earnings and student loan repayment. The top five colleges in the rankings all are small private colleges. Sacramento State, San Jose State, Cal State East Bay and UC Davis are the only other California public universities to make the 50-college list.
"It's empowering to be recognized for the way we serve our region," said Stan State President Ellen Junn. "Our important distinctions are gaining visibility, and honors like this one from MONEY magazine are a source of pride for the entire University community. Many of our wonderful faculty were drawn to Stan State for the chance to advance the region's future by teaching many of the bright but underserved students of Central California. This honor reflects how successful we continue to be in meeting that primary mission through excellence in teaching."
In late August, Washington Monthly ranked Stan State No. 2 in the nation for its master's programs, behind only State University of New York at Geneseo, and also No. 2 in the West Region in "Bang for the Buck," behind only the University of Washington at Tacoma.
"Stanislaus State is among the institutions doing the best job of helping students attain marketable degrees at affordable prices," said Washington Monthly Editor in Chief Paul Glastris. "We hope that shining a light on the great work being done at Stan State encourages other colleges to follow its example."
Earlier in the summer, Stanislaus State was selected as one of the country's top 382 colleges for the 12th straight year by the Princeton Review. Stan State joins San Diego State and Sonoma State as the only three members of the California State University system on the list.
In June, College Values Online proclaimed Stan State's anthropology bachelor's degree program as the No. 1 value in the nation. The website based its findings on a combination of the low cost of attending Stan State, the financial support available to students and the diversity of the University's anthropology program.