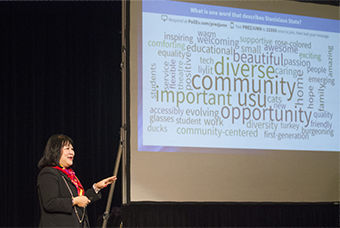 Recent events on college campuses underscore the need for universities to make sure everyone has the opportunity to feel safe and be heard at institutions of higher learning. At Stanislaus State, a commitment to diversity and inclusion was made years before this particular brand of right-left social unrest became prevalent, and President Ellen Junn, in her second fall address, recommitted her administration and the University to the concepts and causes of campus safety and inclusiveness.
These themes already were going to be a major part of her Aug. 21 address, as they undoubtedly have been part of the new academic year conversations on most campuses. But as Junn spoke about how those causes are part of the ethos at Stan State, they took on added immediacy as she pointed out to concerned students the successes, as well as upcoming programs, furthering those goals.
The President's Commission on Diversity and Inclusion (PCDI) has been hard at work since its formation last fall. It has been charged with developing a comprehensive plan for achieving measurable results in making sure all students feel welcome and heard on campus.
Junn described two campus events that illustrate how Stan State is reaching out to the community in these efforts. The first was the April 13 Day of Remembrance to mark the 75th anniversary of the internment of more than 120,000 Americans of Japanese ancestry living on the West Coast. The second was the April 27 dedication of the Peace Pole, which includes the words "May Peace Prevail on Earth" in 16 of the languages spoken on the Stan State campus.
The address drew more than 200 attendees to Snider Recital Hall, and with a large number of faculty and staff in attendance Junn provided a budget update that detailed plans for salary reviews. She spoke of how money allocated for the CSU system in the state budget wasn't enough to avoid the system-wide tuition hike, but did allow Stan State to increase enrollment and hire new faculty.
Junn also took the opportunity to share several campus highlights, including praising a faculty that is 62 percent tenure-track — one of the highest percentages in the CSU — and to mention some of the recent national accolades Stan State has garnered, including the MONEY magazine report ranking the University the nation's No. 1 public school for "helping students overcome their academic and economic backgrounds."
She praised University Advancement for more than doubling — to $3.9 million — the amount of donations coming to Stan State in the past year. She closed by bringing attention to two initiatives specifically aimed at helping students from our region, particularly those from underrepresented communities: her First-Generation Central Valley Presidential Scholars awards and the ongoing Campus Cares effort to aid students who are facing housing or food insecurity.