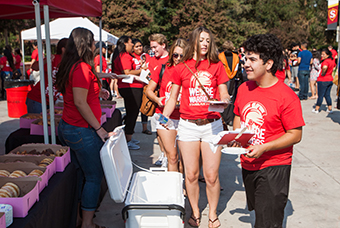 For decades, California's higher education system has been held up as a model for the rest of the nation, and also internationally, for the way it prepares young minds for the future.
And one of the areas in which the California State University and University of California systems excel is the way they are able to quickly engage their first-year freshman students, putting them on the path toward graduation. In fact, the 87.2 percent combined retention rate of CSU and UC freshmen is the highest in the nation.
And it can be better.
Stanislaus State, which has a first-year retention rate of 82.5 percent that places it in the top quarter of all four-year institutions nationally, is actively researching and implementing ways to improve its retention and graduation rates. One effort, launched upon the arrival of this year's freshman class, is called the Warrior Passport.
In a pilot program, about 450 first-year students will be given a booklet similar to the passport issued by the National Park Service, in which tourists can earn a stamp each time they visit a national park. Stan State students will gather signatures as they take part in a wide variety of campus events, such as attending meetings for academic clubs, fraternities or sororities, rooting on the Warrior athletes at a sporting event, voting in a campus election, participating in intramurals, even for checking out the very popular Warrior Grill.
According to Marge Jaasma, Associate Vice President for Academic Planning and Analysis, the goal is to add an incentive for incoming students to get involved in their University as soon as possible after arriving on campus, knowing that students who are socially involved are more likely to enjoy academic success and stay on track to graduate.
"Research indicates that students need to feel like they belong on campus to succeed," Jaasma said. "We hope that participating in the Warrior Passport will encourage engagement and the sense of belonging as students participate in campus activities."
Initially, the Warrior Passport will be issued to students taking English 1006, General Biology I or those participating in the College of Science's pre-health program. Students completing the passports will receive t-shirts, and could become eligible for additional prizes to be determined, while all the time they will be learning about how to become a socially active student.
"The purpose of the Warrior Passport is to get students engaged on campus early in their first semester," Jaasma said. "As part of the passport, we will have two peer mentors who will notify students of events and plan some group events for students who may be interested in attending an event as part of a group."
There is a strong social aspect to the Warrior Passport. Instead of simply picking up a stamp or running the booklet through an automated stamping machine, the students will be collecting the signatures or initials of the persons on hand to facilitate the program. It's that kind of personal interaction Jaasma believes will be an important part of the social value of the Warrior Passport.
"Participating in the Warrior Passport project will increase their awareness of the resources available to them and the location of these resources," Jaasma said.