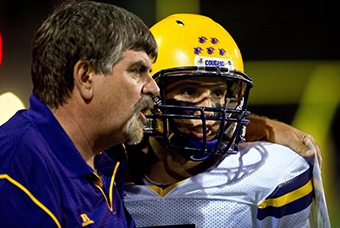 California has been home to so many great college football teams over the decades that it's only fitting this region's top high school football coach would be a graduate of Stanford, Cal, UCLA or USC.
Or Stanislaus State?
Yes, a college that never has fielded a football team is the alma mater of Mark Loureiro, whose 271-56-1 record at Escalon High puts him atop not only the list of active coaches in Northern California, which has 630 high schools, but also at the top of the all-time list among the 198 high schools in the Sac-Joaquin Section.
"When I came out of college I thought I was going to be a great high school baseball coach," said Loureiro, a 1979 Stan State graduate and a member of the Warriors Athletic Hall of Fame. "Baseball was my first love and that's where I thought I was headed. But I came back to my alma mater, Escalon, where my dad was the baseball coach, and he wasn't leaving baseball for a while. So I jumped into football and just kept going and going."
Since taking over as Escalon's varsity coach in 1989, Loureiro, who turns 60 in September, has guided the Cougars to eight section titles and the 2010 California Division III State Bowl Championship. But before turning his sights from baseball to football, he was on the receiving end of some coaching guidance — much of it from Stan State baseball coaching legend Jim Bowen.
"Coach Bowen taught me great things about how to organize a practice," Loureiro said. "There was never a wasted minute. I couldn't believe how much he could get done in a two-and-a-half hour practice, and I incorporated that into baseball and football when I got here. The longer I was away from Stanislaus, the more I realized I had learned a lot of great lessons from Coach."
Loureiro played baseball at San Francisco State for one year before transferring to Stanislaus State. He sat out the 1976 season as a transfer year, and practiced with the Warriors baseball team as it claimed the NCAA Division III National Championship. The following year he was the starting first baseman and team captain when Stanislaus repeated as national champion. The Warriors went on to finish fourth in the nation in 1978 and second in 1979.
"Those were three great years at Stanislaus," said Loureiro, who played one season of professional baseball as a first baseman in the San Francisco Giants' organization. "Not only did I play with some really good baseball players, but there were some incredible people at that school. Jim Bowen and Jim Hanny put Stanislaus on the map with their success in baseball and golf. You also can look at the guys I played with and marvel at how many of them went into education and coaching. These were quality players, and the credit goes to Coach Bowen."
Even though Loureiro wasn't officially a member of the 1976 team, he was on hand for last spring's 40-year reunion. In addition to seeing his old Warrior teammates, he was able to chat with current Stan State players Patrick Mulry, Gino Franceschetti and Nathan Chunn — all of whom starred on the football field at Escalon under Loureiro.
"The perception of Stanislaus has changed dramatically since I went there, and now the kids see it for what it is — a top-flight university," Loureiro said. "They're pulling kids from all over the state and a lot of bright kids are staying home to go to Stanislaus. The facilities are great, the campus is beautiful and it seems they've upgraded everything about the school.
"This place is on the move and I'm proud to tell people I graduated from Stan State."