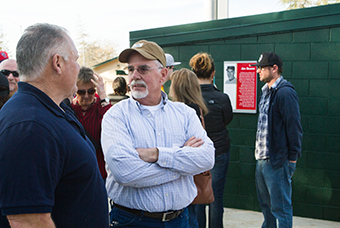 Players from the Stanislaus State 1976 Division III National Champion team reminisce outside the Warrior Field dugout, moments after the unveiling of a plaque commemorating the career of head coach Jim Bowen.
Despite being a non-scholarship NCAA Division III program, the 1976 Stanislaus State baseball team refused to back down from any level of competition.
And if that meant the opposition didn't have a clue about your program, as was the case when the Warriors visited UC Berkeley that year, well, if nothing else it's good for a laugh 40 years later.
"We went over and played Cal, and their coach, Jackie Jenson, thought we were a junior college because as we went through the line to shake hands after the game he was trying to recruit some of us," said Jim Moxley, a first baseman on that team. "I don't think he knew we were a four-year school."
Within two months, everybody knew about Stanislaus State, as the Warriors surged to the first of back-to-back Division III national championships behind legendary coach Jim Bowen. That national title, won in Ohio, came only two weeks after the Stanislaus State golf team won the first of its amazing 12 national titles under Jim Hanny.
This Feb. 6, in the middle of a weekend that included the 2016 Athletic Hall of Fame induction ceremonies and Homecoming festivities, 15 players from the 1976 baseball team and many of their friends and family members gathered at Warrior Field to be honored by the University and to trade memories.
"It's great to see the guys," said Cherie Bowen, the widow of the program's patriarch. "They are family, and that's what this was all about."
The team already had been honored in 2003 with an induction into the Warrior Athletics Hall of Fame, but the returning players were able to see many recent improvements to the school's baseball diamond, including dugout signs that acknowledge the 1976-77 titles and one that stands as a lasting tribute to Bowen.
It was a testament to Bowen's salesmanship that the team came together at all. Stanislaus State became an NCAA Division III member at the start of the 1975-76 school year, a move that required the elimination of athletic scholarships. The University would not offer athletic scholarships again until 1998, when it joined the Division II California Collegiate Athletic Association.
"I originally came here on scholarship and then had it taken away when we went Division III," said outfielder Gary House, who made the trek from Martinsburg, W.Va., to be part of the reunion. "You could still qualify for work study and academic grants. Bowen had a knack for putting together guys that nobody else wanted. I went to Cal Poly initially and got cut. I was talked into coming here."
Coach Bowen was good at that. When Modesto High and Modesto Junior College standout Dan Boer wasn't sure about playing at Sacramento State, Bowen convinced him to become a Warrior.
"It was magical how so many of us just showed up to play here," said Boer, who was the most valuable player of the 1976 College World Series. "All these guys were from all over, but we had juniors and seniors who melded at the right time."
Another last-second addition was outfielder Rusty Kuntz, who went on to a seven-year major league career and now is the first base coach for the World Series champion Kansas City Royals. Work duties kept Kuntz from attending the reunion.
"Rusty was the main man, and even then he knew a lot about baseball," said second baseman Jim Valponi. "Imagine how much he knows about baseball now, after he's been in it at the professional level for all these years."
When interviewed during the 2014 World Series, Kuntz was quick to praise Bowen for igniting his passion for baseball.
"The big thing is the preparation part, because I am a product of my mentors," Kuntz told The Modesto Bee. "We'd play Humboldt State on a Tuesday and Jim could tell you where to play everybody, how to pitch them and which pitchers were slow to the plate. He taught us a lot along the way.
"At the time I remember thinking 'What the heck is this guy doing?' and then all of the sudden you get in his shoes and you realize how important that detail was."
Attending to the details also is important to current Stanislaus State head coach Kenny Leonesio, who has addressed with his players the lessons they can take from their Warrior predecessors.
"That team showed everybody that if you recruit well, work hard and the team comes together you can accomplish anything," Leonesio said. "I think it's incredible what they did. Not too many of these kids knew about the 1976 team, but they ask questions about the championship signs on the back of our dugout. History is important in a program and it's great to see all of these players back to celebrate the achievement and the Bowen family."