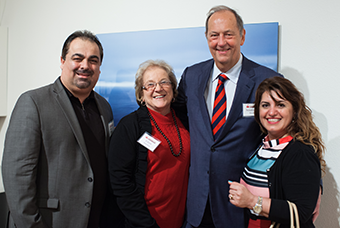 Stan State alumni Sam David, Eileen Hamilton and Adrian Harrell with Senator Bill Bradley.
As an athlete, Bill Bradley wasn't only a basketball player, but a national college player of the year, Olympic gold medalist and two-time NBA champion. He wasn't merely a student, but a Rhodes Scholar, and not only a follower of politics but a three-term United States Senator from New Jersey and a presidential candidate.
So it's no wonder that Bradley, in his post-athlete, post-Congressional years, remains very much a person whose outlook on everything from politics to the world economy is worth considering.
On Feb. 18, Bradley brought stories and messages from his most impressive public life to Stanislaus State as part of the University's Executive Speaker Series.
In its third year, the Executive Speaker Series is designed to enhance the visibility of the University, particularly the College of Business Administration. This year's event was made possible by the Demergasso Family Trust. Past speakers have included economist Arthur Laffer and David Gardner, co-founder of The Motley Fool. Early in Bradley's talk at Snider Recital Hall he addressed economic issues, offering possible solutions to the ongoing problems with the U.S. economy.
"The biggest economic problem the country faces is that for 30 years the middle class has been left off the train for economic growth," Bradley said. "A family of four makes the same amount now that it made in 1994. It means you work hard and you still can't get ahead. People are shaken. Is there an American dream?
"I believe that one of the answers is something our country hasn't had in 30-40 years — a major infrastructure program. We need to rebuild roads, airports and build high-speed rail. Another thing we can do is reward companies that hire people and keep people. These answers are available to us."
Bradley added that foreign investment in the U.S., particularly in infrastructure programs, can be a primary method not only to help the country solve some of its domestic problems, but to assist Americans to begin thinking in long-term solutions.
"The Chinese are long-term thinkers," Bradley said. "They get 100 million people watching a 12-part series on the rise and fall of nations. We have 40 million people watching American Idol. Nothing against American Idol, but the comparison is startling."
He cited a Chinese high-speed rail project that began in 1990 and is scheduled to provide service to all provincial capitals by 2020 as well as connect to Berlin and Istanbul, fostering an eastern flow of resources — both real and intellectual.
"The Chinese also are building (hydroelectric) dams on the headwaters of the rivers that flow into Southeast Asia," Bradley said. "Once the dams are built on the waters that are the lifeblood of all the countries downstream, they won't have to fire a single shot to control the economies of those countries. They'll just halt the flow of the water."
So why is America lacking in forward-thinking leaders? Bradley pointed to the structure of our politics. Those running for high political office often are advised to avoid bold plans, and to not offer agendas that are too ambitious or transformative. Bradley also blamed the basic ideological differences between Republicans and Democrats, and he claims it's only when the best ideas of the two sides meld that American works efficiently.
"The Democratic Party is the party of collective action, of caring, while the Republicans are the party of responsibility, which means individual action, and that's the battle," he said. "But you need both individual action and collective caring to work together to have progress."
The most obvious example of how collective caring and individual action can be complementary, he said, is Social Security.
"It took millions of elderly people out of poverty and guaranteed a decent standard of living upon retirement," Bradley said. "But if you want more than Social Security, which most people do, you need to save for retirement, and that's how individual responsibility and collective caring work hand-in-hand."
Nearly every problem, he said, can be solved through using the immense talent available in America, by melding the best parts of otherwise divergent ideas into common solutions.
"We need to continue to think about the goodness of the American people and how the future of every one of us is tied to the future of everyone," Bradley said. Once we see that clearly, the path forward is easier to see.
"I remember when that hit home for me. It was the first time I saw the iconic photo of the Earth as taken from space. Right there, it showed that we're one planet, one biosphere, one people. We can take that down further and say that we're one nation and one community and the quicker we realize that the better we'll be."