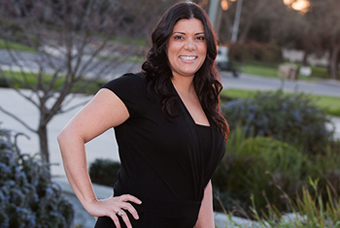 Anna Eshoo recalls being on vacation and sketching her vision of opening a yoga studio. She was a certified yoga instructor and had been teaching high school business courses in Turlock for five years. She tucked that sketch away. Two years later, when her master's program advisor at CSU Stanislaus asked, "What is it that really gets your heart pumping?" Eshoo remembered her sketch.
"I would love to teach people how to start a business," she replied.
Eshoo completed the University's Executive Master in Business Administration (EMBA) program. She wrote her thesis on starting a business and applied what she learned to launch I AM Yoga Wellness Studio in Turlock. Her thesis presentation and grand opening took place on the same day in 2008.
"Everything fell into place. It was powerful to not just write a thesis but see it unfold in real life," she said.
Eshoo was among the first cohort of about 30 students in the accredited EMBA program, which equips professionals to advance into leadership positions at an accelerated pace. Program completion takes 15 months of Saturday-only classes, some online. Small cohorts encourage close-knit ties among students and faculty. Locations for each cohort rotate between Turlock, Stockton and Tracy.
"Those 15 months felt like the blink of an eye. I built relationships with classmates. Maybe there were mistakes I might've made but didn't because I learned from theirs. The bonds we created made it easier to give up our Saturdays."
In her early 30s at the time, Eshoo questioned whether she'd had enough life experience to pull off a successful business.
"I have an entrepreneurial spirit. I love the idea of taking risks. I'm definitely a dreamer. With my passion, book-smarts and hands-on experience, my degree seals the deal. People realize, 'Wow, she's not just trying this. She invested time into getting a degree,' " she said.
She comes by her confidence naturally, crediting her mother, Blandina Wilson, with instilling that drive in her.
"She is the backbone in my life. When I started, I taught nine yoga classes a week, and she took every single one."
More than 1,000 clients visit I AM Yoga each month, according to Eshoo. They come for yoga, Pilates, spa sessions and chiropractic care.
"Learning how to grow slow and steady is the key to success. I take a risk and let it settle in to give it a chance. I experiment with different avenues, I fail, I get back up, and when I succeed it's exciting."
At CSU Stanislaus, Eshoo earned her bachelor's degree in Liberal Studies with a concentration in child development in 2001. She honed her leadership skills while being an officer of Phi Sigma Sigma for three years, including serving as its president.
The best piece of advice she received came from Rod Hollars, who was the principal when she was a student and is now her boss at Pitman High.
"He said, 'Eshoo, the key to your success will be to separate your two careers. Give 100 percent when on campus. Stay focused and do the same when engaged at your business.' Those words changed my life. He is not a yogi, but he was teaching me how to stay present. It makes a difference when you go to work feeling supported and he has made that difference in my life."
Five years into being in business, Eshoo had a spinal injury that required surgery. A year of recovery taught Eshoo what she was made of and on whom she could count. Her brother, Isaac Eshoo, ran the studio and taught classes while Eshoo healed and built strength from the inside out.
"I cried, I prayed, and I was scared. But that entrepreneur in me didn't give up. Now I can relate to all ages in my clients and when I tell them to honor their bodies, it's because I've been there."
---
Applications are now being accepted for the next EMBA cohort in Tracy that starts in September.