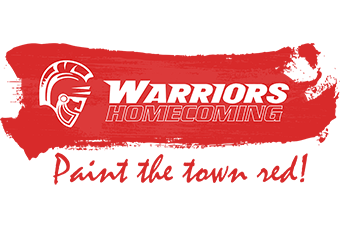 More than 55,000 graduates call Stanislaus State their alma mater, so it's only fitting that the University gives everybody the chance to come home.
That invitation to return to campus is extended year-round, but during Homecoming Week, Feb. 6-11, 2018, an entire series of events — including the induction of a new class into the Warrior Athletics Hall of Fame — has been planned for all alumni to celebrate Stan State tradition while reviving their sense of Warrior Pride.
And while you're here visiting the campus, why not rediscover Turlock and Paint the Town Red?
"Homecoming is all about getting our alumni connected or reconnected with the University," said Lisa McMullen ('08), Stan State's director for alumni relations. "At the same time, it's always great to see how many people find our Homecoming Week as a way to reunite with college friends."
Six full days of festivities are planned, including the Warrior Athletics Hall of Fame induction luncheon on Saturday, Feb. 10, and basketball games that night in Fitzpatrick Arena against long-time rival Humboldt State. This year's Hall of Fame class includes a track and field national champion, a national runner-up golfer, an NCAA woman of the year finalist, a national women's basketball runner-up team, a dominant volleyball middle blocker and a beloved member of the Warrior family.
"It's exciting to me that Stan State is able to recognize these individuals and teams who have played significant roles in the development and success of Warrior athletics," said Interim Athletics Director Kim Duyst. "All of these athletes are part of history and deserve to take their places in our Hall of Fame. At the same time, I can't wait to catch up with them to hear about the success they have enjoyed since graduating from Stan State."
Homecoming Week festivities begin on Tuesday, Feb. 6, with the Warrior Wisdom program, which connects alumni industry professionals with students and recent alumni. The following day — Wednesday — all Stan State students, faculty, staff, administration and alumni are encouraged to wear Warrior Red on campus, around town and in your offices, no matter where you work.
Also on Feb. 7, the annual Alumni Employees Luncheon will bring together Stan State faculty and staff members who graduated from Stan State.
Saturday's Warrior Athletics Hall of Fame ceremonies start with a 10 a.m. brunch for inductees and guests in Main Dining. Admission is $30 and a ticket is required.
An alumni pregame social begins at 5 p.m. in the Kinesiology Building (adjacent to Fitzpatrick Arena). The women's basketball game against Humboldt State tips-off at 5:30 p.m. with the men's game following. The 2018 Hall of Fame Class will be recognized during the games.
For more information about Homecoming Week, or to RSVP for the events that require registration, contact the Office of Alumni Relations at alumni@csustan.edu or (209) 667-3131. You can also RSVP online.