Alumni Advisory Council members are steadfast in their dedication to the University and work diligently to bring engaging programs and events to the campus that will bridge the gap between current and future alumni. The dedicated members of the Council span the decades since the University's founding in 1957 and they travel from as far as the Bay Area, Fresno and Stockton multiple times a year to participate. Their invaluable perspective and knowledge allows for the brainstorming of ideas that help form programs beneficial to alumni and students. These programs and events engage those who wish to volunteer as well as those who wish to simply attend events.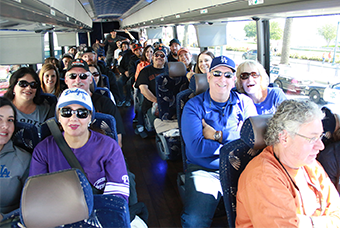 Warrior alumni traveled to San Francisco for the first Warriors at the Park to cheer on the Giants vs. Dodgers in October.
This year, the Council welcomed its first student representative. Since the generational gap is something that can't be avoided, the Council felt strongly about hearing the voice of our future alumni and wanted to know how to better serve current students. As much as the Alumni Association tries to be visible and accessible to students, it was surprising to hear students are not aware the Alumni Association exists.
The Alumni Association has an endowed scholarship fund that is funded, in part, by Vines, our annual fundraising event. The Council reviews and selects scholarship recipients for the Alumni Association Academic Achievement Scholarship. For the 2016-17 academic year, the Alumni Association awarded 13 $1,000 scholarships.
The Alumni Council continues to work hard to increase awareness of its presence, and as a result more alumni are becoming actively involved in our programs. In October, the Alumni Association hosted an event to welcome President Ellen Junn. Many of the Stan State graduates who attended the event said it was their first connection with the University since graduation. Another new event was Warriors at the Park, in which alumni attended a San Francisco Giants game at AT&T Park against the Los Angeles Dodgers.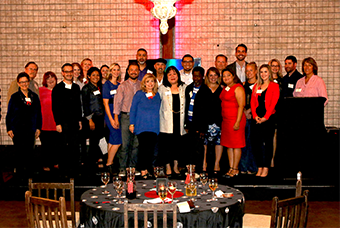 In October, Stan State alumni welcomed President Ellen Junn and reconnected with their alma mater.
Dinner for Warriors is an Alumni Association program in its third year. Alumni open their homes to students to share their success stories and knowledge gained through years of hard work. The casual atmosphere of a home provides the opportunity for students to ask questions and learn.
Warrior Wednesdays is another new networking idea from the Alumni Council, with gatherings held on the second Wednesday of the month at restaurants in Turlock and Sacramento. This program is specifically designed for alumni to gather once a month to network and socialize. Through casual conversation, a strong Warrior bond is rejuvenated. It is the Alumni Association's hope to offer more Warrior Wednesdays in other cities.
These programs and other volunteer opportunities are meant to engage alumni in their association, which is free to its members. So, help us spread the word that the Alumni Association is open for business and we are looking for ideas and volunteers. Please join us.
Adrian Harrell '98
Chair, Alumni Advisory Council