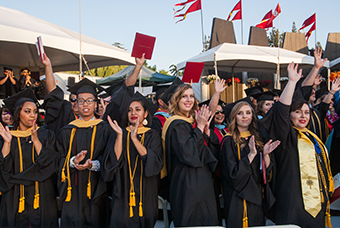 National accolades continue to rain down on the Stan State campus, with many highlighting the success the University is having in educating first-generation college students as well as the way Stan State boosts its graduates into good careers.
For the third straight year, CollegeNet has ranked the University in the top 20 nationally for how efficiently it advances low-income students through graduation and into good careers. Stanislaus was ranked No. 17 on this list for the second straight year. CSU and UC institutions fare well in this ranking, taking 10 of the top 25 spots.
"The fact that Stan State continues to appear in these national rankings is no accident," said University Provost James T. Strong. "Our mission as a University is to foster the future success of our students, most of whom will be first-generation college graduates. For instance, we've established an Advising Success Center that puts all our advising resources in one place to make staying on-course toward graduation attainable for all students. In addition, being a smaller campus has some advantages, such as our 22:1 student-teacher ratio, which is the second-lowest in the CSU system."
The CollegeNet ranking was one of several in which Stan State was highlighted.
Stan State was featured in the Princeton Review's "Best 381 Colleges" list for the 11th straight year.
For the 21st consecutive year, the University made the U.S. News & World Report's list of best public colleges.
Washington Monthly ranked Stan State No. 5 in the nation for its master's programs, No. 5 in the West for "Bang for the Buck" and No. 100 on its inaugural list of best schools for adult education.
Stan State's accelerated bachelor's nursing program was ranked No. 1 in California, No. 2 in the West and No. 23 in the nation, while its resident nursing program was ranked No. 5 in California and No. 31 in the nation.
Money Magazine ranks Stan State No. 61 nationally and No. 2 in the CSU for "value added."
In addition, Stanislaus State's ongoing commitment to building and maintaining strong community partnerships was recognized nationally, with the University being named to the 2015 President's Higher Education Community Service Honor Roll. Stan State has found a place on this honor roll in each year it has been presented.
"This award is evidence of the commitment of our faculty, our students, our administration and our staff to improving the quality of life in our region," said Julie Fox, Stan State's director for service learning. "And we know our dedication in these areas is important to developing strong reciprocal relationships between the University and our community."
During the 2015-16 school year, more than 3,400 Stanislaus State students participated in service learning courses, logging more than 184,000 hours of community service with estimated volunteer time valued in excess of $4.3 million.