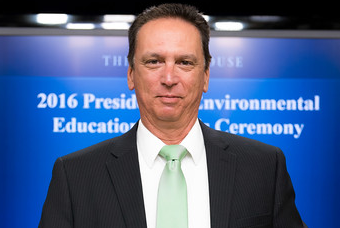 Stanislaus State alumnus Jeff Rivero, who earned his bachelor's degree in history in 1991, went on to become a U.S. history and current events teacher at Yosemite High School, a continuation school in Merced. He has been teaching there for more than 20 years, and this year he was one of 13 recipients in the nation of the Presidential Innovation Award for Environmental Educators, presented by the Environmental Protection Agency.
The award is presented annually to innovative environmental educators who integrate environmental learning into their classrooms using hands-on, experiential approaches. Rivero has combined environmental education with his curriculum to teach students about policies, behaviors, and decisions involving both economics and natural resources. He also runs an after-school program, which offers opportunities in composting and recycling, gardening and worm farming in addition to community service projects, including a partnership with GRID Alternatives that provides opportunities for students to gain hands-on experience installing solar electric systems for low-income families.
The award is accompanied by $2,500 for Rivero to further his professional training, and Yosemite High School will receive an additional $2,500 to support its environmental education program.
Rivero said that the fulfillment he feels when working with his students is reward enough. However, earlier this year, one of his colleagues spoke to an EPA specialist recommending him for the award, knowing that if he was selected as a recipient, Rivero would put the award grant money to great use through his student programs. When the EPA specialist asked Rivero to apply, he couldn't turn down an opportunity that might benefit his students.
"We were just beginning plans to fundraise for a butterfly sanctuary that the students had envisioned. On a campus with more than 90 percent economically disadvantaged students, this adventure was going to be difficult at best," Rivero said. "We had no idea where the funds were going to come from. I even told the students just days before that if there was any way to find the funding we were going to get it."
Rivero traveled to the White House in August to accept the award and a local ceremony honoring Rivero and the local program was held in at Yosemite High School in September.
During the ceremony at the White House, Secretary of Education John B. King, Jr., complemented the green teaching at Yosemite High School.
"I was struck by the work of Jeff Rivero, a high school teacher from Merced, California, who is using environmental issues to get students involved in community service projects and current events in his U.S. history class," King said. "This is about educators lifting up environmental education and opening up students' minds to what is possible not only in school, but also long-term in their careers."
Rivero said that since receiving the award his calendar has been a flurry of presentations and interviews, which give him the opportunity to showcase the work of his students and share the approach of his programs across the state and the nation.
"My goal as a teacher is to inspire students to do their best at conservation and to become environmental and social advocates." Rivero said. "Education is about finding what you like and gaining the skills to make a career out of it."