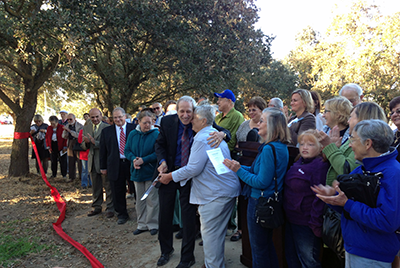 President Joseph F. Sheley with long-time University supporter Donna Pierce and friends at the Trans-California Pathway Project ribbon cutting.
When Joseph F. Sheley speaks about having pride in the CSU system, which he does often, it's much more than a catch phrase or hashtag fodder.
For Sheley, the belief in the life-changing power of a CSU education is personal.
Sheley found direction as a first-generation student at his hometown four-year university — in his case Sacramento State. Then, upon being appointed president of Stanislaus State in June 2012, he called upon his own experience to help guide the University toward its status as a national leader in serving those whose parents, for various reasons, didn't have access to a college education.
On Nov. 13, Sheley announced that he will be retiring as president on July 1, 2016, but quickly added that much work remains to be done, and that he will continue to be a leader in the battle for upward mobility through education.
"I'm proud of what we've been able to accomplish together, and I'm especially proud of our students' success," he said. "However, it's important to stay focused, because this region desperately needs many more successful graduates if it's going to advance economically."
In his farewell statement to the campus community, Sheley looked back on the highlights of his administration, thanking the community for its help and support in "strengthening consultative processes within the campus community; encouraging attention to the health and safety of members of that community (including a leadership role in Title IX efforts); building a strong regional connection and advocacy base; promoting student, alumni and employee pride; reestablishing our presence in Stockton; and more systematically approaching budgeting during what remain challenging financial times."
His efforts in those areas were noticed by CSU Chancellor Timothy P. White, who praised Sheley's work.
"President Sheley elevated the profile of the University and established Stanislaus State as an integral force within the region, stimulating economic development and bolstering college attendance and completion rates," White said in a statement. "I commend him for his personal efforts to advance the educational attainment levels of students, many of whom are the first in their families to graduate from high school and attend a four-year university. The partnerships he has forged and fostered with the community and local school districts will provide the foundation for many generations of students to enjoy increased academic and personal success."
Sheley's final months on campus certainly will be marked by tributes and a stream of well-wishers. But there is much work to be done, he said, particularly in the areas of his continued advocacy for investment in higher education and making the case that the state's long-term well-being lies in a better-educated workforce in the Central Valley. In addition, he plans to continue his collaboration with campus constituencies on a host of issues: budget planning, health and safety, Title IX and fundraising.
But there also will be time for Sheley and his wife, faculty member Bernadette Halbrook, to enjoy the campus and savor the school spirit that has increased palpably during his three years as president.
"Warrior Pride is not just a phrase," Sheley said. "You feel it at games, cultural and academic events, and in everyday conversation in the Quad or Main Dining. That feeling is important to us, and we'll miss it. We want to experience it until the day we leave."