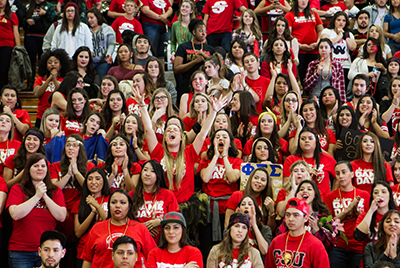 Game crowd from Homecoming 2015.
Stanislaus State alumni are invited to join in the festivities and share their Warrior pride during Homecoming 2016. Alumni, students, parents, faculty, staff and the community will once again "Paint the Town Red" during activities planned for Homecoming Week, Jan. 31-Feb. 6, 2016.
For alumni who have not been back to campus since their graduation or those who are on campus regularly for events, Homecoming Week is sure to offer a special experience for Stan State graduates, as well as for family and friends. Homecoming is a time when Warriors return to campus to reconnect with friends and celebrate the spirit and pride of Stanislaus State.
The week will kick off with a community carnival hosted by Associated Students, Inc. on Sunday, Jan. 31. Students, alumni and the greater community are invited to bring their families and friends for a fun day of activities for all ages.
Alumni who are Stanislaus State faculty and staff will be recognized at a special Homecoming Luncheon on Tuesday, Feb. 2. The event will provide an opportunity for on-campus alumni to get to know each other. Reservations are required. The luncheon is generously sponsored by Associated Students, Inc., the University Student Union and the Stanislaus State Alumni Association.
Be sure to don your favorite Stan State gear for Homecoming Week on Wednesday, Feb. 3, in the office, classroom or around town. Share your story of Warrior pride with those you meet and help to Paint the Town Red for Homecoming — and be sure to post a photo in your Warrior gear on social media with #WarriorsPaintTheTown.
A reception for all Stan State alumni will be held on Friday, Feb. 5, at the University's downtown Art Space on Main. Refreshments will be served and the gallery will feature an exhibition of sculpture by Department of Art faculty member Dean DeCocker. Make your reservation to attend this great evening of networking with fellow alumni.
On Saturday, Feb. 6, join classmates at a pre-game reception before cheering on men's and women's basketball as they take on Cal State East Bay.
For full Homecoming Week details and to make reservations for special events, please visit the Homecoming website. Alumni also are invited to follow the Alumni Association on social media for the latest updates and event announcements on Facebook, Twitter and LinkedIn and to use #WarriorsPaintTheTown in their posts to join the social conversation during Homecoming Week.