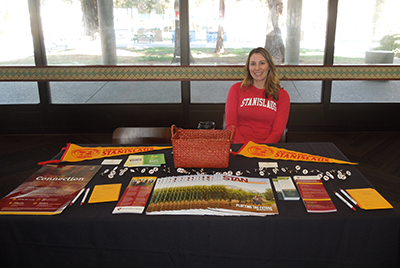 Lisa McMullen, Director of Alumni Relations
The Alumni Association would like to extend its gratitude to President Sheley for his tenure as President for California State University, Stanislaus. Through President Sheley's leadership, we have experienced a greater sense of alumni pride as he has often been the voice to share all that we, alumni, have to be proud of as graduates of Stan State. You can read more about President Sheley's tenure and retirement in this issue of the alumni newsletter.
President Sheley has been extremely supportive of the Alumni Association's initiatives, one being Vines, an evening of local and regional wine, brew and bites! And planning is underway for Vines 2016 – please save the date for an exciting time with Stanislaus State alumni, friends and President Sheley on March 10, 2016.
The Vines Committee is excited to bring back successful elements from the 2015 event, such as the wine and food pairings and the wine wall. Alumni are encouraged to support the Alumni Association and their alma mater through the Vines event and there are many ways to do so. Visit the Vines website to see the ways to get involved through event sponsorship, silent auction and wine wall donations and exhibitor opportunities. 
The most immediate way you can be part of Vines is as a ticketed guest. You can purchase tickets today, just in time to present your favorite alumni with the gift of an incredible evening out with proceeds benefiting alumni programs, campus projects and the Alumni Association Academic Achievement Scholarship. Guests will be sure to leave the event fulfilled and confident of giving back to Stan State, our University!
As this year closes, I am grateful to be able to serve my alma mater by connecting alumni to their University through advocacy, events and volunteer opportunities. I feel privileged to meet you, fellow alumni, and learn about our campus' history through your experiences. In the new year, I will be excited to see alumni at events and I encourage you to continue to #speakproudly about our Stan State!
Wishing you a happy holiday season,
Lisa McMullen, '08