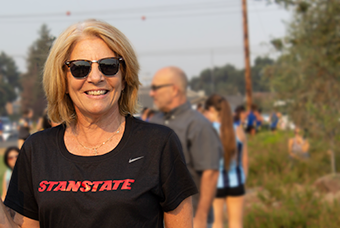 In her 32 years at Stanislaus State, Kim Duyst wore a lot of hats. She was a coach and administrator, but more than that she was a friend and mentor to countless people in the Stan State community — athletes and supporters alike.
Duyst retired from her position at Stan State on June 5, leaving behind an unparalleled Warrior legacy.
"I have truly enjoyed my time here," she said. "I have made many friendships, I raised a family here. Turlock is our home. It was the right fit, to stay as long as I did at Stanislaus State, but it is now time for a change. It's time for new adventures."
Duyst came to Stan State as the head coach for the cross country and track and field programs in 1986. She stepped away from coaching in 2007 to become associate athletic director, having been appointed Stan State senior administrator for women's athletics in 1995. She served as interim athletic director since May 1, 2017, relinquishing that post when new athletics director Terry Donovan arrived on May 1 of this year.
As a coach, Duyst mentored 82 NCAA All-Americans and nine national champions, received six coach-of-the-year honors and served as president of the NCAA Division II Track and Field Coaches Association. She was appointed to numerous USA Cross Country and Track and Field coaching staffs, traveling to Paris, Morocco, Kenya, Turkey, Canada and Mexico in those roles.
"We have the greatest profession in the world — where we can make a difference and help others achieve their dreams and goals," said Duyst during the annual Warrior Athletics Awards Banquet. "It is important to remember why we do what we do, to make sure we communicate effectively and that everyone knows that we truly care about them."
As senior associate athletics director and senior woman's administrator, Duyst oversaw compliance, academic advising, game operations and sport supervision. She served on the NCAA Management Council and NCAA Championships committees. She also started the Stan State chapter of the Fellowship of Christian Athletes.
"She's given 32 years of her life to improve the lives of student-athletes here at Stan State," Donovan said. "Her impact has been in virtually every area of the athletic department and school."
Donovan arrived at Stan State with 18 years of experience in college athletics administration, most recently a three-year stint as Fresno State's senior associate athletics director for business operations. He held previous leadership positions at Syracuse University, Arizona State University and at his alma mater, the University of Nevada.
Donovan served in several roles within Fresno State athletics, including financial affairs, equipment operations and sport supervision. Donovan also was the sport program administrator for men's and women's tennis as well as supervising the department's $44 million annual budget. Donovan's wife Brandi is a native of the Central Valley, and they have two sons: Eli (9) and Colby (5).
On The Field:
Senior pitcher Joe Ryan became Stanislaus State's highest-ever baseball draft pick when he was selected in the seventh round by the Tampa Bay Rays. Ryan was an All-America selection this spring, posting an 8-1 record and a 1.65 ERA and his school-record 127 strikeouts led all of collegiate baseball.
Warrior hammer throwers Krystal Alnas and Eric Bejaran earned All-American honors with top- eight finishes at the NCAA Division II Track and Field Championships. Alnas threw the hammer 181 feet, 4 inches to finish eighth in the women's competition, while Bejaran finished sixth in the men's event with a throw of 202 feet, 1 inch.
Also at the championship event, Warrior Chaunte Mitchell — the first woman in NCAA Division II to capture back-to-back (2004-05) outdoor titles in the pole vault — was enshrined in the NCAA Division II Athlete Hall of Fame.