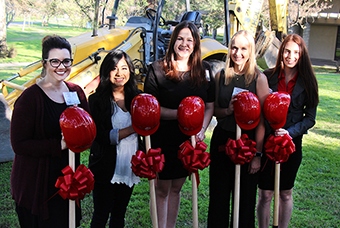 A flat parcel of dirt, roughly the size of a football field, has appeared at the center of the Stan State campus.
No, it's not the future site of the University's first foray onto the gridiron. This plot of land soon will reveal something exciting for the entire Stan State community: a new University Student Center.
Groundbreaking for the $52 million project was held on Feb. 8 and demolition of the former building was completed in June. A student union referendum passed in 2015 to support the project. The fee that will underwrite the construction takes effect in fall 2018. The building is expected to open during the spring 2020 semester.
Turlock native Natalie Dykzeul held the University Student Union chair position for two years, a span that included the passing of the student referendum. During the groundbreaking, Dykzeul praised the work of her two immediate predecessors, Emily Ruiz and Erika Santos, as well as the two who have continued as USU leaders, Hailey Holm and Allysa Gonzales.
"The hardest part was the logistics, and how we reached out to the students," said Dykzeul, who in May will earned her master's in genetic counseling from Virginia Commonwealth University. "We reached out to all the clubs and organizations, all the athletics teams and student housing to make sure they knew what was going on. The outreach was a group effort."
Etch your name into the history of Stan State! We're launching a brick campaign to support the new University Student Center. More details to come this fall!
Stan State President Ellen Junn praised the student leaders for their foresight dedication to determine the need for a new Student Union, to get the referendum passed and for their contributions to the design effort.
"A student center is much more than a place for social interactions and networking, although that's a very important piece of what it's designed to do," Junn said. "Students, as well as faculty and staff, will come to find that a well- designed and well-managed student center is a place where classroom conversations can overflow and emerge with greater depth."
During the renovation, the University Student Union as well as Associated Students, Inc., Student Leadership and Development and New Student Orientation offices have been relocated to Student Housing. More information on the project, including renderings, can be found on the project website.