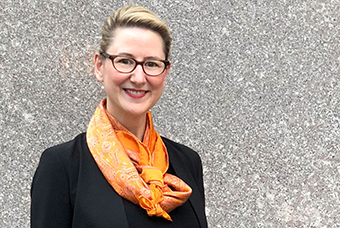 To Carrie Jaquith (Music, '93), the links between learning how to read music and learning how to write software, between honing a musical stage performance and polishing a user interface, are obvious.
They might not have seemed so when the Stanislaus State graduate (B.A., music) took her first role in a Wall Street firm, but during her tenure at the venerable financial advisory and asset management firm Lazard Frères & Co. LLC, the connection has become second-nature.
"I was recently at an event where I was introduced as someone who was trained to sing opera and has applied that knowledge to technology, data science and analytics," said Jaquith, a Central Valley native who lives and works in New York City. "There were some raised eyebrows.
"But I said that I see these ties between reading music and reading code, and for me, there is a logical progression moving between languages 1, 2, 3 and 4. One of my senior managers commented 'I get it, it makes total sense. What you do is all about communication.'
"It's true, a lot of what I do in technology, digital brand, data, and analytics is about communication and at Stan State I studied a language that is all about communication — music."
Jaquith is a vice president at Lazard Frères who carries the title of Digital Product Manager, and refers to herself as a Creative Technologist (a descriptor vague enough to be almost limitless).
"I work at the intersection of design, software development, physical computing, data and emerging tech," she said. "I'm constantly looking to the horizon of how systems and data can be structured and interpreted to make things better, clearer, and then guiding them into the hands of the humans that will use them.
"My recent data and analytics work is focused on creating environments that allow us to ask questions of data and on creating ways to visualize 'answers' that are meaningful and easy to understand. Much of my career has been about creating designs, tools and methods to 'tell stories' with data."
So how often during her work day does Jaquith think back to the lessons she learned while studying music at Stan State? All the time.
"There are subtle layers to how my job relates to the fine arts," she said. "At Stan State, I learned about visual perspective and design theory in my art electives — all of my work has an aesthetic polish because of that early training. When I present a product demo, I draw from (theater professor) Jere O'Donnell's monologue class. When I research, I draw from the advice of librarians Bob Santos and Art Costa to look far beyond the local collection — to look at the entire ecosystem because good art (and good tech) don't happen in a vacuum.
"Taking a project through concept, design, multiple iterations and finally launch is just like learning a new piece of music, something I learned from Dr. (Deborah) Kavasch (Coordinator of Theory Studies and Composition). Dr. Kavasch taught me how to research a composition — how to go through iterations, take feedback and really polish a piece."
The cross-subject relevance of knowledge expressed by Jaquith is something that can and does apply to every college student who may be wondering how that required physics course relates to their English major. But Jaquith's application of art-learning concepts to the tech world not only is proof that everything is connected, but she's also convinced that Stan State was the perfect place for her to explore those connections.
"Stanislaus is such an incubator for learning and teachers. Both of my siblings studied at Stan State and went on to teach," said Jaquith. "Our mother, a teacher, took post-graduate classes at Stanislaus State. That culture of education put me on a course of perpetual learning and instilled in me a desire to give back.
"Stan State provided me with access to a scaffolding to learn, permission to experiment and opportunities to perform at a scale that wouldn't have been available at larger institutions."