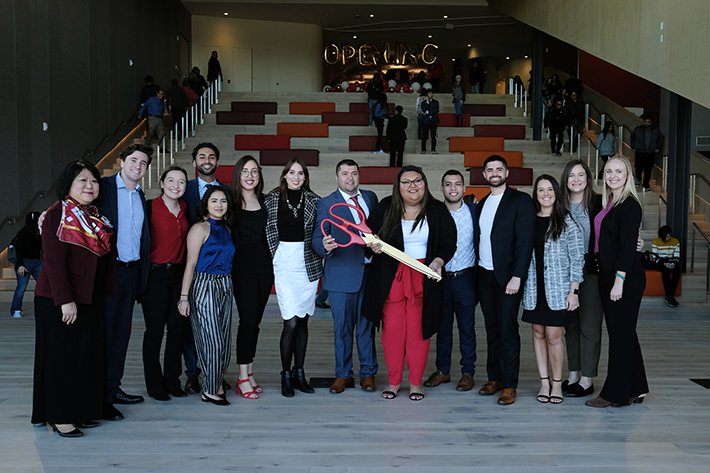 The morning of Jan. 27, 2020 was one for the memories and for the photograph albums of the entire Stan State community.
Not only did the sun rise on a crisp, clear and spectacular winter morning – perfect for the first day of spring semester classes – but the day also brought the long-awaited ribbon-cutting on the $52 million University Student Center.
In remarks to a crowd of excited students, faculty and staff, Stan State President Ellen Junn noted the building's ground-breaking was held 718 days earlier, but that the idea of building a new Student Center was sparked in 2012. A design planning team consisting of students and professional staff helped bring the idea to fruition.
"This is your lasting monument on this campus," Junn said. "It's a monument to student life and leadership that will play such a large role in maintaining the welcoming campus atmosphere we have at Stan State."
Over the previous eight years, several University Student Union board chairs oversaw the design planning team, including: Natalie Dykzeul (2014-2016), Hailey Holm (2016-2017), Allysa Gonzales (2017-2019) and Jennifer Galeana-Vasquez (current), all of whom spoke at the ceremony to celebrate the result of purposeful hard work and determination.
"With the new building comes growth," said Galeana-Vasquez, who has been involved in the process for five years. "We hired a total of 40 new student assistants, added 20 volunteers and an additional five professional staff. They are committed to maintaining our building and our services so we can better serve our students."
There is plenty of space for everyone in the building, which encompasses 152,432 square feet and seats 1,228 in the lounge areas and 410 in the new Warrior Grill, which adds an integrated pizza oven and will be offering beer and wine options.
Food services provider Chartwells will continue serving current favorite menu items and will expand those offerings to include a farm-to-fork style eatery called "Titus Grown." Named after the Stan State mascot, the space will offer soups, salads and sandwiches with produce grown by students.  
The Center also will include a new convenience store called "The Market." Its offerings will be similar to "Pops," which has been located inside Main Dining during construction, but will feature new grocery items suited for the residential housing lifestyle.
At least two outside franchises will be added to the SC, with the first being the campus' first free-standing Starbucks. The second outside vendor is Shake Smart, which offers menu items such as shakes, bowls, coffee and other quick bites that are high in protein and can be customized to fit lactose-free, gluten-free and vegan lifestyles. 
As soon as the ribbon was cut and the cheering faded away, students quickly entered the building to peruse the options and claim prime locations for studying and socializing.
"It's so huge that it shocked me at first," said Roni Byrd, a mathematics major in her second year at Stan State. "It looked huge from the outside, but it's just as big on the inside. It feels like you're walking in a mall because it's so spacious. It's really cool."
Students piled inside the new building, excited to see the result of two years of construction.
"It's finally real," said Teresa Martin, also a second-year mathematics major. "It seems like such a good spot to study and get food. The space, along with the bookstore, makes it really great."
Martin and Byrd's favorite parts of the Student Center are the cubby tables because they seem like the perfect place to study, as well as the Warrior Steps and Warrior Grill — because they offer a great view of the campus — and games like pool and foosball for study breaks.
"I'm really happy with the way the Student Center turned out," Martin said. "The design is so sleek and clean. I really appreciate the hard work that was put into this building. It's better than I imagined."
While the doors of the University Student Center are temporarily closed due to the COVID-19 pandemic, we are looking forward to when students will again gather in these spaces to socialize and study, and maybe meet some of the alumni who made it possible. The spirit that brought the Student Center to fruition remains with us, as students, faculty and staff continue learning and University operations via a variety of online and remote formats.